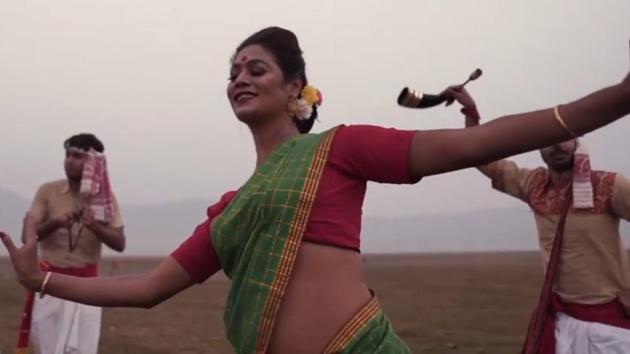 Assam transgenders release video, seek mainstreaming, inclusion in festivities
The video released by the community hopes to get transgender people included in the festivities during the harvesting festival.
UPDATED ON JAN 03, 2021 08:04 AM IST
In a bid to create awareness against social alienation of the community, the All Assam Transgender Association (AATA) has released a short video seeking inclusion in festivals and other occasions.
Called 'Ami Tritiyo' (We, the Third), the 2:24 minute video, a collaborative effort of AATA and a local NGO, North East Voluntary Association of Rural Development (NEVARD), was released on Friday.
Made with the support of transgender welfare board under the social welfare department of Assam government, the video, made public ahead of this month's Magh Bihu, the harvesting festival marked with feasting and celebrations, hopes to help transgender people get included in the festivities.
"This video was part of a project by the social welfare department for mass sensitization on the issue of discrimination faced by the transgender community," said Swati Bidhan Baruah, an eminent transgender activist and the associate vice-chairperson of the transgender welfare board.
"Hope this video will spread awareness and help rid of gender discrimination against the transgender community. Since Magh Bihu is nearby, we want people to include transgenders in the festivities as well in other celebrations without any stigma," Baruah added.
Also Read: Assam professor dies of burn injuries; one acquaintance arrested
Shot last month at Dihina village in Kamrup (Rural) district close to Guwahati, the video shows a transgender woman dressing up to take part in Bihu dance along with other men and women of the village.
But as she goes out to join the others, a villager says she can't dance with the group as she's not a woman. Hurt by the harsh words, the transgender woman sits alone crying when a Bihu dancer from the group asks her to join them.
The video ends with the message- 'breaking all gender stereotypes, let's celebrate Bihu together'.
"Like us, transgender people also want to be accepted and loved without discrimination. We have seen some of them suffering from mental trauma because of social alienation. Some even start substance abuse or hurt themselves. This should stop," said a member of NEVARD.
According to Census 2011, Assam has a transgender population of 11,374. In June last year, the Assam government set up a welfare board for the transgender people. A separate gender category for transgender people was introduced in the state civil services examination in October last year.
Topics
Close