Bahu Aishwarya Rai is auspicious, says Rabri Devi as Lalu gets bail
May 14, 2018 11:41 PM IST
Lalu Prasad got a three-day parole to attend son Tej Pratap's wedding, followed by six weeks of provisional bail on health grounds.
Activities at Lalu Prasad's 10, Circular Road residence in Patna began early Monday morning with his wife and former chief minister Rabri Devi visiting a temple to offer prayers.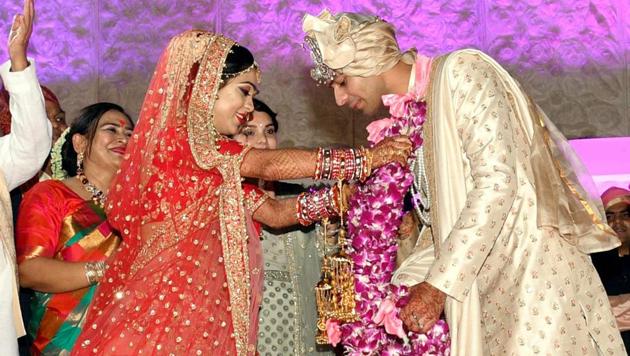 When reporters asked about her daughter-in-law, Rabri said, "Hamari bahu Lakshminiya hai" (My daughter-in-law is highly auspicious). Her arrival has brought good omen and several pleasant developments in the family."
Stay tuned with breaking news on HT Channel on Facebook.
Join Now
She was hinting at the three-day parole followed by six weeks of provisional bail to her husband after her son got engaged to Aishwarya Rai. Last weekend, Rabri Devi too was elevated as leader of opposition in the Legislative Council.
In the afternoon, Rashtriya Janata Dal (RJD) national president Prasad took a flight to Ranchi to return to jail after the expiry of a three-day parole granted to attend his elder son Tej Pratap Yadav's wedding.
Serving sentences in four fodder scam cases, Lalu has already been granted six-week provisional bail for medical treatment which comes into effect on Tuesday. He is expected to be back in Patna by Tuesday evening. The trip to Ranchi is to complete bail formalities.
His lawyer Prabhat Kumar said the Jharkhand high court order granting bail had not reached the CBI court. "As soon as the copy of the order reaches there, the process for filling the bail bond will be undertaken. As per provision bail, Laluji will not address any rally. He has submitted ₹50,000 as surety money for the bail bond," Kumar said.
The RJD chief had obtained the provisional bail soon after getting the parole order.
Lalu's family is concerned about his falling health as he suffers from diabetes, blood pressure, kidney problems and heart disease.
"Once he secures bail and returns, a decision regarding his treatment will be taken. We will ensure that he gets the best treatment," said RJD national general secretary and MLA Bhola Yadav.
During the course of his imprisonment, Lalu had been hospitalized at the Ranchi Institute of Medical Science (RIMS). In March, he was shifted to the All India Institute of Medical Sciences (AIIMS), New Delhi, for several weeks. He was brought back to RIMS earlier this month, evoking strong protests from RJD members who alleged that he was being discharged despite the fact that he had not fully recovered.
AIIMS in a statement had said that Lalu was being referred back to Ranchi Medical College as his condition had improved significantly.