Bhaiyyu Maharaj commits suicide, note says he was 'stressed out, fed up': Police
Self-styled spiritual leader Bhaiyyu Maharaj locked himself inside his daughter's room and shot himself in Indore on Tuesday, police said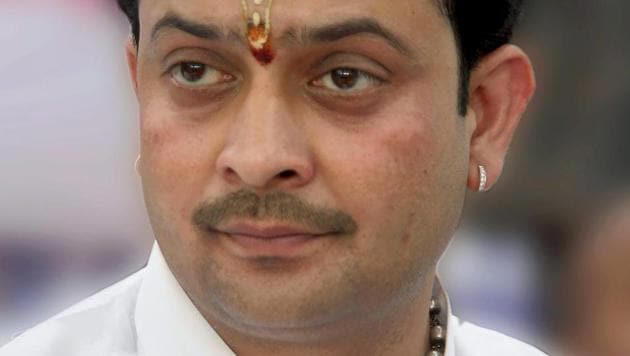 Updated on Jun 13, 2018 12:45 PM IST
Hindustan Times, Bhopal |
Punya Priya Mitra and Hema Tiwari
Self-styled spiritual leader Bhaiyyu Maharaj,who was close to many prominent politicians and declined a minister of state rank offer by the Madhya Pradesh government in April, apparently killed himself in Indore on Tuesday. He was 50.
Deputy inspector general (DIG) of Indore Harinarayanchari Mishra said the spiritual leader locked himself inside his daughter's room around 12.30pm and shot himself on the right side of his head. "On hearing the gunshot, servants broke open the door to find him slumped on a bean bag with his licensed revolver lying nearby," the DIG said.
Police said they recovered a two-page suicide note in which Bhaiyyu Maharaj talked of being "stressed out" and "fed up".
The DIG said that the first page of the note said "somebody should be there to handle duties of family" and the next line read "I am leaving, to (sic) much stressed out, fed up," and is followed by his signature. The next page of the note says that all his financial matters would now be looked after by Vinakay, identified as an aide.
The DIG said prima facie it appeared to be a case of suicide but the reason behind the suicide was not known. His family did not comment on the possible reasons for his suicide.
Born Udaysingh Deshmukh in a farming family, Maharaj worked as a model for a textile company before styling himself into a spiritual leader, who led a flashy lifestyle, often seen sporting a Rolex watch and driving a Mercedes.
He rose to national limelight in August 2011 when the then United Progressive Alliance government asked him to mediate on their behalf with Anna Hazare, who was leading an agitation in Delhi's Ram Lila Maidan.
In April 2018, the MP government gave him and four other religious leaders the rank of minister of state to work for rejuvenating the Narmada. He turned down the offer.
He also had his share of controversies. In 2005, a woman claimed she bore Maharaj's son, a claim the spiritual leader denied. In April, when he married Arushi Sharma, two years after death of his first wife Madhvi, a Mumbai-based actor and writer accused him of making her write his biography but not paying the promised remuneration.
He was said to be close to Rashtriya Swayamsevak Sangh (RSS) chief Mohan Bhagwat, former President Pratibha Patil, singer Lata Mangeshkar, Maharashtra chief minister Devendra Fadnavis, former Maharashtra chief minister and Congress leader Vilasrao Deshmukh, and Shiv Sena leader Uddhav Thackarey.
"My heartfelt tribute to Bhaiyyu ji Maharaj. Your thoughts will inspire society to walk the path of humanity till eternity," Madhya Pradesh chief minister Shivraj Singh Chouhan tweeted.
Gadkari tweeted a condolence message in Marathi while Bhagwat and RSS general secretary Bhaiyyaji Joshi issued a joint statement, in which they said: "We have lost a friend of the Sangh and someone who spent his life in service of society."
Topics
Close Story
Personalise your news feed. Follow trending topics