BHU students clash with doctors, set 30 motorcycles on fire
Reports said the situation was brought under control and a case was registered against students and some doctors on Thursday.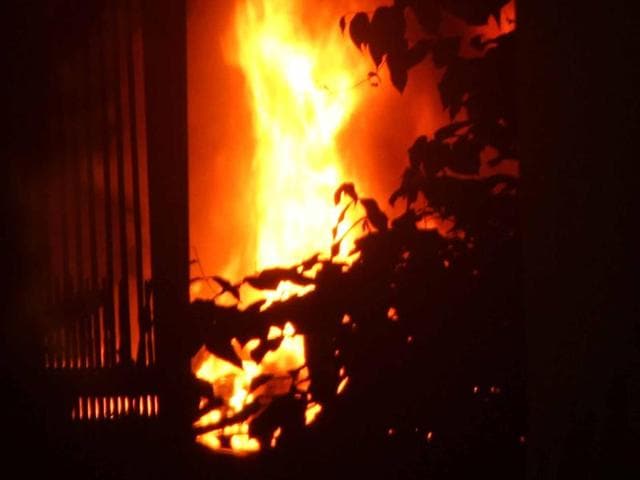 Updated on Sep 01, 2016 05:05 PM IST
A group of students and doctors of the Banaras Hindu University clashed after three BHU students were allegedly beaten up by residents of the campus-based Sir Sunderlal Hospital on Wednesday night, police said on Thursday.
Reports said the situation was brought under control and a case was registered against students and some doctors on Thursday.
The violence broke out after friends of an injured student from BHU's Birla Hostel alleged that doctors at the trauma centre of the hospital didn't attend to him. The doctors allegedly beat up the three students and held them hostage in a room.
The student was injured in an accident.
As the news about the altercation reached Birla Hostel, several students marched towards the trauma centre and reportedly beat up a few doctors. Soon, a number of resident doctors joined their senior colleagues in the clash.
Senior superintendent of police Akash Kulhari and district magistrate Vijay Kiran Anand rushed to the spot to control the situation. The officials spoke to the students and pacified them.
BHU spokesperson Dr Rajesh Kumar Singh said that a group of students later torched 30 motorcycles belonging to resident doctors and indulged in stone-pelting at Dhanvantari Hostel.
Singh said those students who indulged in the violence have been identified and strict action would be taken against them. "Some students tried to disrupt peace which will not be tolerated. Those involved in such activities will be dealt with sternly," he said.
Resident doctors also shouted slogans against the district administration from the rooftop of the hostel.
Sources said two students were injured during the clash and they were denied treatment by the doctors. They were later shifted to the divisional hospital at Kabir Chaura.
The SSP Kulhary and district magistrate Anand held a meeting with BHU vice-chancellor Girish Chandra Tripathi.
"Maintaining peace at BHU and the hospital is our priority. Action will be taken against unruly elements on the basis of the complaint. Heavy police force has been deployed on BHU campus to avert any untoward incident," Kulhari said.
Though there was no official confirmation of a strike, but doctors at the hospital's trauma centre abstained from work on Thursday. Though emergency service remained unaffected, a huge rush of patients was seen at the OPD.
Close Story