The GJM leader who took on Mamata Banerjee: Who is Bimal Gurung?
Updated on Jun 16, 2017 07:36 AM IST
In 2007, Bimal Gurung formed the Gorkha Janmukti Morcha (GJM) to fight for Gorkhaland.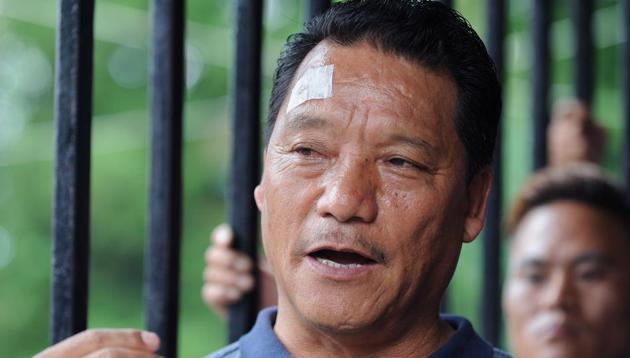 Had he not joined the Gorkha Volunteers Cell (GVC) in 1986 when he was 22, Bimal Gurung, the son of poor tea workers, would have lived an inconsequential existence. But that year the headstrong youth jumped into the wave of Gorkha protests that followed Subhash Ghising's call for a separate state of Gorkhaland.
Two years later, Gurung left the GVC after Ghising's party, the Gorkha National Liberation Front (GNLF), signed the 1988 Darjeeling Accord with the Centre and the West Bengal government that led to the formation of the Darjeeling Gorkha Hill Council (DGHC).
Gurung came into the limelight once again in 1992 when he floated an organisation for unemployed youth from the hills.
Though he shared the fire of Ghising in his early years, unlike his mentor, Gurung was always accessible. Since 2007, when he formed the Gorkha Janmukti Morcha (GJM) to fight for Gorkhaland, Gurung has always maintained cordial ties with the media to carry his mission forward.
"Bimal Gurung was born to fight for Gorkhaland and I will not ditch my people by compromising with something else. If I do not spearhead the movement for Gorkhaland, the hill people will not spare me," he told HT on June 9.
But mere rhetoric will not help the 53-year old Gorkha leader now, faced that he is with the full might of chief minister Mamata Banerjee who has vowed to prevent any bifurcation of West Bengal at any cost.
On Thursday, Gurung got a taste of what he may be up against. The police raided his office, his home and some people even set fire to a vehicle parked in his house. Gurung was in hiding throughout the day, barely managing a video message to the media.
Thousands of GJM supporters and activists have rallied on the streets of Darjeeling, Kalimpong and Kurseong, even fighting pitched battles with security forces. But if the current confrontation drags on, it will be a challenge for Gurung to keep up the morale of his supporters and the party machinery intact if he has to remain in hiding for long.
As a child Gurung was used to a hard life. The family was so poor that he was forced to give up schooling and spent his adolescent years doing odd jobs to support his family. He could not even attend high school. He used to miss his primary school classes and was punished by his teachers regularly as he had to carry lunch to his mother who worked as a tea garden worker.
In 1999, Gurung won the DGHC bypoll from Tukvar constituency as an independent candidate. Given his popularity in the area, GNLF entrusted him with the responsibilities of the DGHC sports and youth affairs department. He soon became a close confidant of Ghising.
Gurung floated his GJM on 7 October 2007, riding high on the accolades he received for drumming up support for Prashant Tamang, a local who went on to win the popular music reality show Indian Idol.
Gurung's move to form a new party was also prompted by growing public disenchantment with Ghising's way of functioning and his proposal to include the Darjeeling hills within the Sixth Schedule of the Indian Constitution, which was seen as a compromise by those fighting for a separate state.
He soon started gaining popular support and this spelt the political downfall of an ageing Ghising who was forced to leave the hills in June 2008.
Gurung has two children, a son who has also acted in a Nepali film, and a daughter who is a practising lawyer. His wife Asha is also an elected member of the GTA.
Teetotaller Gurung is a health freak and makes it a point not to miss his daily morning badminton and exercise session. His younger brother Bijay was killed in during the violent Gorkhaland movement of the mid-1980s.
Personalise your news feed. Follow trending topics