BJP may appoint an OBC leader as party chief in Uttar Pradesh
Hindustan Times, New Delhi |
Kumar Uttam
Jul 15, 2018 09:53 AM IST
The Bharatiya Janata Party (BJP) is considering another change of guard in Uttar Pradesh, and may appoint an Other Backward Class (OBC) politician as the party's president
The Bharatiya Janata Party (BJP) is considering another change of guard in Uttar Pradesh, and may appoint an Other Backward Class (OBC) politician as the party's president in the country's most populous state ahead of next year's general election, a leader familiar with the plan said.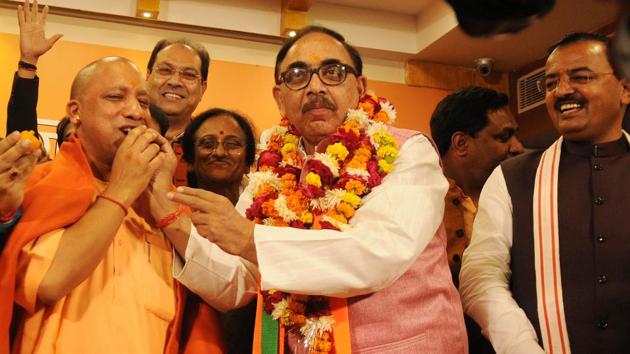 "This was discussed during (BJP president) Amit Shah's visit to Uttar Pradesh last week," the leader said on condition of anonymity. "A call is yet to be taken."
The move is being considered as part of an effort by the BJP to keep its support among OBC communities intact and compensate for any sense of under-representation among them in a state where the chief minister, Yogi Adityanath, is a Thakur with his support base concentrated in and around Gorakhpur in eastern Uttar Pradesh.
The incumbent BJP chief in UP is Mahendra Pandey, a Lok Sabha MP from Chandauli and former junior minister of human resource development (HRD) in the Narendra Modi government. Pandey is a Brahmin and comes from the Poorvanchal region. Chandauli is a district adjacent to Varanasi, Prime Minister Narendra Modi's constituency.
"Pandey could be chosen for a Raj Bhavan assignment if he is replaced," a second leader said.
The first leader said Uttar Pradesh transport minister Swatantradev Singh, a confidant of Amit Shah, could replace Pandey if the party opts for an organisational change in the state .
Singh is a Kurmi leader from Bundelkhand, who also served as general secretary in the state unit of the party. Considered an organisation man, Singh was a contender for the state president's post even earlier, but lost out to then Phulpur MP Keshav Prasad Maurya in April 2016.
After Maurya was appointed a deputy chief minister in the Adityanath government last year, Pandey replaced him in August as the president of Uttar Pradesh BJP.
"There is a feeling among backward leaders that they did not get much despite the community supporting the party in two elections --the 2014 Lok Sabha and 2017 assembly elections," the first leader said.
OBCs make up 52-53% of UP's population, of which the Yadavs account for about 8%. The BJP successfully wooed the non-Yadav OBC communities of Uttar Pradesh, in the 2014 Lok Sabha and 2017 assembly elections.
One-time arch rivals Samajwadi Party and Bhujan Samaj Party, which derive their support from the Dalits, minorities and a section of OBCs such as Yadavs, have tied up in Uttar Pradesh to challenge the BJP and snatched three key parliamentary seats -- Gorakhpur, Phulpur and Kairana, in recent by-elections.
The defeat in the by-polls set off alarm bells in the BJP's central leadership.
"We will have to depend on the support from the backward communities to retain Uttar Pradesh in 2019," the second leader said. "It may require a special gesture to woo them."
The first leader said removing Pandey may not be considered an anti-Brahmin move, because Dinesh Sharma, another Brahmin leader, is already a deputy chief minister, and a couple of other important portfolio in the state government are with leaders from the upper caste community.
"Pandey does not have the reputation of being a Brahmin leader as such," the first leader said.
Badri Narayan, an academic at the Allahabad-based G B Pant Institute of Social Sciences, "There are two explanations for it. It is driven by a desire to prevent an alienation and desertion of the OBC vote. Kurmi and Mauryas voted for the BJP in large numbers, and the appointment is a signal to the backward community. This is also driven by the concern about the SP-BSP alliance and its ability to make inroads into backwards. But in the process, the BJP will have to be careful not to alienate the Brahmin vote."