BJP says Rahul Gandhi 'immature and ignorant' after he compares RSS to Muslim Brotherhood
Rahul Gandhi said the RSS was like the Muslim Brotherhood, which, according to him, wanted to run every institution according to a particular ideology.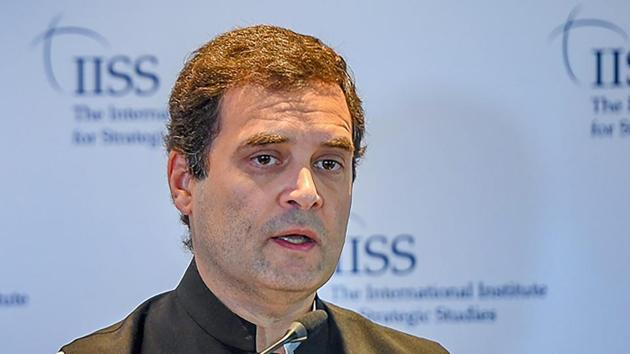 Updated on Aug 25, 2018 10:44 AM IST
The Bharatiya Janata Party hit out at Congress chief Rahul Gandhi on Friday, calling him the "wisest fool", and an "immature and ignorant leader" over his comments likening the Rashtriya Swayamsevak Sangh (RSS) to the Muslim Brotherhood.
Gandhi is currently on a tour of Europe, where he has addressed several meetings. In one of them, he said the RSS was like the Muslim Brotherhood, which, according to him, wanted to run every institution according to a particular ideology.
The comparison, BJP spokesperson Sambit Patra said, was unforgivable.
Read: 'A certain degree of arrogance' crept into Congress after 10 years of power: Rahul Gandhi
"Those who have read European history, know about King James I. He and his courtiers considered him as a wise man while most of the critics felt he was constantly doing foolish things. He was given the title of "wisest fool" of Christinadom," said another BJP spokesperson Sudhanshu Trivedi. "Rahul Gandhi is the wisest fool of Congressdom."
Trivedi said while Gandhi aspired to be prime minister of the country, he was not even "capable of becoming a mature opposition leader." Gandhi cannot claim the legacy of the Congress of Bal Gangadhar Tilak who spoke about Purna Swaraj, and Mahatma Gandhi who gave the call of Hind Swaraj, he said.
Trivedi said Gandhi should use his "frequent" trips abroad to also read reports from international agencies that, the BJP spokesperson said, have given a thumbs-up to the Indian economy. The International Monetary Fund has predicted that India will surpass China in growth rate soon, take over UK as the fifth largest economy by 2020, and it was for the first time in 14 years that rating agency Moody's improved India's rating, Trivedi said.
The BJP spokesperson also recalled the anti-Sikh riots of 1984 to attack the Congress president.
The BJP also slammed Gandhi for "defending the ISIS (Islamic State)" and making comparisons with India.
Trivedi said Gandhi claimed the IS was founded because of unemployment, but, he pointed out, that Al Qaeda's Osama Bin Laden was not unemployed or misguided. "He was a billionaire. Those who were involved in 9/11 attack were not unemployed," Trivedi said.
At a separate press conference, another BJP spokesman, Sambit Patra, demanded Gandhi apologise to 125 crore Indian and stop this acting as a "contract killer for the idea of India." The only facet, Patra said, that Gandhi possesses is hatred against Prime Minister Narendra Modi.
Patra too reacted strongly to Gandhi likening RSS with the Muslim Brotherhood and asked if a terrorist outfit was ruling over India. "Are you suggesting that government of India is working like a terrorist organsiation and expanding through invasion," Patra said, a question meant for Gandhi.
Close Story
Personalise your news feed. Follow trending topics