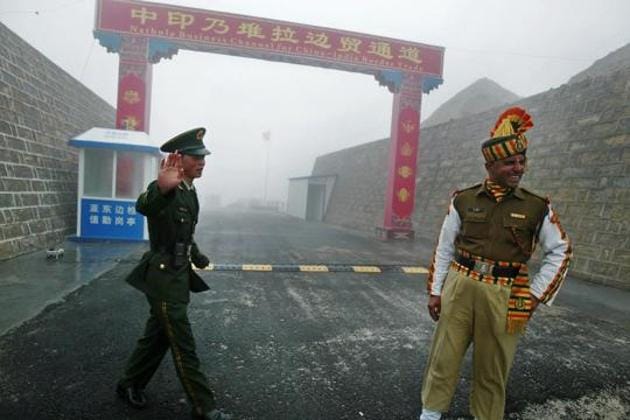 Blow by blow: A timeline of India, China face-off over Doklam
Here's how the Doklam stand-off unfolded over the course of two months.
UPDATED ON AUG 28, 2017 03:58 PM IST
In the latest twist in the two-month long Doklam stand-off, India on Monday said it had agreed with China on a mutual disengagement of troops. However, a statement from Beijing stated that while India had withdrawn troops, China would continue to patrol the border.
The difference in the wording of statements from both sides suggest that the Doklam stand-off is far from over.
Here is a timeline of events recapping the Doklam impasse:
June 16: People's Liberation Army (PLA) attempts to build a motorable road in 'Chicken's Neck', a thin stretch that connects mainland India to rest of the north-east.
June 28: Chinese military accuses Indian army of halting the construction of the road in what it claims to be China's "sovereign territory" in the Sikkim section of the India-China border. Foreign ministry spokesperson Lu Kang justifies Beijing's construction citing the 1890 Sino-British Treaty.
July 5: Bhutan issues a demarche to the Chinese envoy, asking Beijing to restore status quo in the Doklam area where Chinese soldiers tried to unilaterally build a road towards its Army camp in Zomplri area.
July 6: China calls off Xi Jinping-Narendra Modi G20 meeting citing that the atmosphere was 'not right', but the two leaders have a brief informal chat on the sidelines of the summit.
July 11: India's foreign secretary S Jaishankar expresses confidence that India can handle the Doklam stand-off the way border rows have been handled in the past. "When such situations arise, I see no reason, when having handled so many situations in the past, we would not be able to handle it," he says.
July 12: China's foreign ministry spokesperson Geng Shuang rejects Jaishankar's comments, saying Doklam is 'different' from frictions that have happened in undefined sections of boundary.
July 15: In a briefing to opposition parties on the issue, the government says it engaged in negotiations with China to ease the tension in the Doklam region of the Sikkim sector.
July 16: China's People's Liberation Army holds "live-fire drills" in Tibet, close to the India's border in Arunachal, to practice quick movement of troops and destroy enemy aircraft. Chinese media reports say that it moved "tens of thousands of tonnes" of military equipment, including army vehicles, and troops to Tibet in late June.
July 19: Foreign Minister Sushma Swaraj tells Rajya Sabha "If China unilaterally changes status quo of tri-junction point between China, India and Bhutan, then it poses a challenge to our security."
July 24: China's foreign minister Wang Yi blames India for triggering the military standoff in Doklam, calling on New Delhi to withdraw its border troops to resolve the crisis.
July 29: Chinese president Xi Jinping addresses a military parade, saying that the PLA has the capability to defeat "invading" enemies and protect the country's sovereignty. "We will never allow any people, organisation or political party to split any part of Chinese territory out of the country at any time, in any form," he says.
August 2: India rejects Beijing's claim the number of its troops deployed at Doklam had decreased. China's foreign ministry had issued a 15-page statement which said Indian troop numbers in the Donglang or Doklam region had fallen from a peak of more than 400 to about 40 at the end of July.
August 8: Beijing rejects India's suggestion for a simultaneous withdrawal of troops to end the standoff at Doklam, asks what New Delhi would do if it "enters" Kalapani region in Uttarakhand or Kashmir.
Wang Wenli, deputy director general of the Boundary and Ocean Affairs of China's ministry of foreign affairs, tells a delegation of Indian media, "The Indian side has also many tri-junctions. What if we use the same excuse and enter the Kalapani region between China, India and Nepal or even into the Kashmir region between India and Pakistan."
August 10: External affairs minister Sushma Swaraj meets her Bhutanese counterpart Damcho Dorji. Bhutan hopes that the Doklam stand-off can be solved "peacefully". India pours in more troops along the entire stretch of its border with China in Sikkim and Arunachal Pradesh, say senior officials.
August 15: Prime Minister Narendra Modi, in his Independence Day speech, says India is capable of thwarting any challenge to its security, praising the country's security forces for "sacrificing their lives to protect this land".
On the same day, Indian troops foil two Chinese incursion bids in Jammu and Kashmir's Ladakh region. Both sides pelt stones at other and soldiers are injured. China later denies scuffle, saying it has no information of any such fight, while the Indian government confirmed the skirmish.
August 16: US urges India-China to sit down and have a direct dialogue to resolve their issues, says would favour a return to status quo.
China's official Xinhua news agency releases a video with racist overtones, mocking and parodying Indians and accusing India of propagating 'Seven Sins' in the Doklam standoff
August 17: Japan signals support to India, saying no country should use unilateral forces to alter the status of Doklam.
August 20: Amid the continuing Doklam stand-off, China conducts a military drill in the western part of the country. The drill was meant to "strike awe in India", a Chinese military expert is quoted as saying by the Lianhe Zaobao daily.
August 28: In Monday's development, India says it has agreed with China on an "expeditious disengagement" of their troops in the disputed Doklam region, but Beijing insists its forces would continue to patrol the disputed region.
Close