BRICS Summit Highlights| Held fruitful talks on bilateral relations between India, China: PM Modi
Sep 05, 2017 12:31 PM IST
BRICS Summit: Prime Minister Narendra Modi and Chinese President Xi Jinping held their first substantive bilateral meeting in Xiamen.
Prime Minister Narendra Modi and Chinese President Xi Jinping held their first substantive bilateral meeting on Tuesday after the Doklam standoff, which had put ties between the two countries under strain.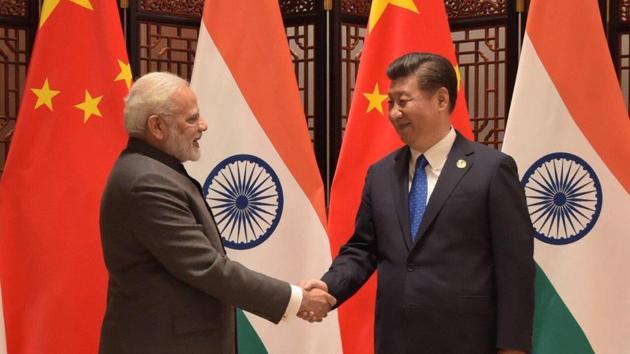 Modi met Xi at around 10 am, the prime minister's last official engagement before flying off to Myanmar on a bilateral visit.
Stay tuned with breaking news on HT Channel on Facebook.
Join Now
Earlier in the day, Modi also held a bilateral meeting with Egyptian President Abdel Fattah el-Sisi.
Below are the highlights:
12:11 pm: Leaving for Myanmar for a bilateral visit: PM Modi
12:10 pm: The various deliberations during the BRICS Summit were extremely productive. Looking forward to building on these in the times to come: Modi.
I thank the Chinese government & people for their warm hospitality during the BRICS Summit: Modi
12:05 pm: PM Modi says we held fruitful talks on bilateral relations between India and China.
11:55 am:
11:52 am: PM Modi and President Xi Jinping had a constructive and forward looking meeting on the sidelines of BRICS Summit: MEA spokesperson Raveesh Kumar
11:52 am: MEA briefing ends.
11:50 am: "Peace and tranquillity are a pre-requisite for border security... Defence personnel must be in greater touch so such differences don't occur again," says Jaishankar, adding that both governments need better communication to avoid recent issues.
The two nuclear powers engaged in a bitter, weeks-long military confrontation in a disputed and strategically important area, Doklam, in the Himalayas.
11: 45 am: A forward-looking approach by both sides, discussion was constructive about where the India-China relationship should be going: Jaishankar
"As agreed at Astana, we would not let differences become disputes. At a time the world was changing, we would not let India-China relations change."
11:40 am: MEA briefing begins. Foreign secretary S Jaishankar says the Modi-Xi meeting lasted more than an hour.
11:30 am: Meeting between Prime Minister Modi and Chinese President Xi Jinping concludes.
11:15 am: Jinping calls for putting its bilateral relationship with India on the "right track" during a meeting with Modi in Xiamen, the official Xinhua news agency reports.
11:10 am: Xi tells Modi 'healthy, stable' China-India ties necessary: AFP quotes Chinese news agency Xinhua
11:05 am: India and China are neighbours and also two of the world's largest and emerging countries: President Xi
11 am: China is prepared to work with India to seek guidance from the five principles of Panchsheel: Jinping tells PM Modi
Panchsheel treaty was a Jawaharlal Nehru-proposed agreement between India and China. It was signed on April 29, 1954. The five principles are:
• Mutual respect for each other's territorial integrity and sovereignty.
• Mutual non-aggression
• Mutual non-interference in each other's internal affairs
• Equality and cooperation for mutual benefit
• Peaceful co-existence
10:55 am: The summit has been successful in boosting cooperation between the BRICS countries, says PM Modi.
The Chinese delegation comprises of President Xi Jinping, chief spokesperson Lu Kang, foreign minister Wang Yi and state counsellor Yang Jiechi
10:50 am: PM Modi congratulates China for the "successful execution of BRICS Summit" at the bilateral meet with Chinese President Xi Jinping: ANI
10:30 am: The MEA briefing on Modi-Xi meet will begin soon.
10:23 am: Bilateral meeting between PM Narendra Modi and Chinese President Xi Jinping begins in Xiamen.
10:07 am: PM Modi holds bilateral meeting with President of Egypt Abdel Fattah el-Sisi on sidelines of BRICS Summit in Xiamen
9: 45 am: Foreign secretary S Jaishankar to talk about Modi-Xi bilateral after the much-anticipated meeting between the two leaders in Xiamen.
9: 43 am: PM Modi says India's "no strings attached" model of cooperation is driven purely by the requirements and priorities of our partner countries, at the BRICS developing nations dialogue.
9:40 am: The road ahead of the Doklam impasse will likely be the broad focus of discussions in the meeting between PM Modi and Xi Jinping.
The atmosphere for the meeting was suitably smoothened — at least for India — by Xiamen Declaration for this BRICS summit which bracketed Pakistan-based terror groups JeM and LeT with ISIL and Taliban.
9:15 am: PM's suggestions at the BRICS dialogue.
9:09 am: XI Jinping warns that world economy faces growing risks and uncertainties from countries turning inward on trade and resisting combating climate change.
"I wish to announce that China will provide $ 500 million for assistance fund for South-South Cooperation," Xi
9:03 am: PM urges BRICS nations to work collectively for a digital world, skilled world, healthier world, equitable world and harmonious world.
9:00 am: Modi calls for an inclusive world, where the poorest of the poor are integrated into the financial mainstream.
8:57 am: Modi says we need to work together to create a greener world and mitigate the menace of climate change.
8:55 am: The bedrock of our development agenda lies in the notion of 'sabka saath, sabka vikas', says PM Narendra Modi in Xiamen.
We need coordinated action and cooperation in areas such as counter terrorism, cyber security and disaster management: Modi
8:52 am: PM Modi highlights India's growing engagement with Africa in multiple sectors and the International Solar Alliance.
8:49 am: PM addresses the Emerging Markets and Developing Countries Dialogue.
8: 11 am: President Xi Jinping chairs Emerging Market Economies and Developing Countries Dialogue. He says countries need to oppose protectionism and rebalance globalisation to make it more sustainable.
8:10 am: Modi arrives for the dialogue on emerging markets and developing countries.
7:35am: PM Narendra Modi arrives at International Conference Centre, Xiamen for group photo of BRICS leaders and leaders of guest countries.
7:30am: On Monday, Brics declaration names LeT, JeM, Haqqani network, Taliban, al Qaeda, ISIL-DAISH among groups causing violence, security concerns.