BSF jawan Tej Bahadur Yadav, who complained of bad food in camps, dismissed
BSF jawan Tej Bahadur Yadav was dismissed after his video alleging bad quality food was being served to jawans on border duty went viral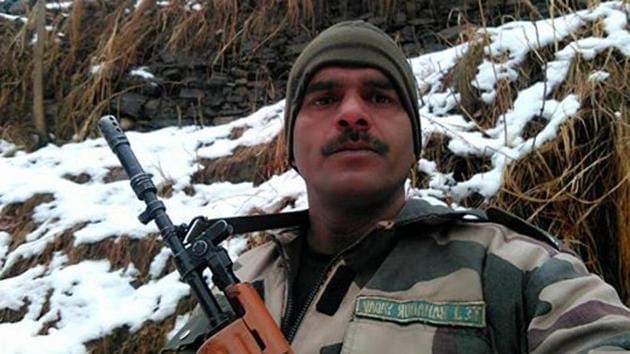 Updated on Apr 26, 2017 10:08 PM IST
The Border Security Force (BSF) dismissed a soldier, who took to Facebook to complain about the poor food at a camp along the India-Pakistan border in Jammu and Kashmir in January, from service on Wednesday after an internal inquiry found him guilty of making false accusations and neglecting orders of the force.
Tej Bahadur Yadav, who was deployed with the force's 29th battalion, had alleged troops were served bad quality food and even had to sleep "empty stomach" at times, prompting the border guarding force to initiate an inquiry.
The BSF said in a statement that Yadav was dismissed from service by the summary security force court (SSFC) that commenced from April 13 and concluded on April 19.
"During the proceedings, it was charged that he indulged in an act prejudicial to good order and discipline of the force in which he made false allegations on social media regarding the quality of food and did not adhere to formal grievance redressal mechanism of the force," the statement said.
It added that all opportunities were given to Yadav for his defence during the proceedings.
"It was also alleged in the court of inquiry that he neglected to obey general orders of the force in which he carried two mobile phones while on operational duty against the SOP and also posted photographs in uniform on social media in contravention of instructions," it said.
He was found guilty of all the charges and awarded dismissal from service. As per BSF act and rules, he can now submit an appeal against the punishment to the higher authorities within 3 months.
During the court of inquiry, Yadav's colleagues did not support his claim of sub-standard food at the camps.
"The issues of disobedience framed against him (Yadav) pertained to going on hunger strike and carrying a mobile phone while on duty. He was asked to eat but he did not follow the instruction. As far as mobiles are concerned, there is a general order for all BSF troopers, which prohibits them from carrying mobile phones while on duty," a senior official said on condition of anonymity as he was not allowed to talk to the media.
In four different videos uploaded on Facebook, Yadav claimed that while government procured essentials for them, the higher-ups and officers "sold it off" in an "illegal" manner in the market.
"We only get a 'parantha' and tea as breakfast and this is without any pickle or vegetables... we slog for 11 hours and at times we have to stand throughout the duty hours. For lunch, we get 'dal' (pulses) which only has 'haldi' (turmeric) and salt ... With roti. This is the quality of the food we get ... How can a jawan do his duty?" he said in one of the videos.
The Prime Minister's Office sought a detailed report from the home ministry and the BSF after his video went viral on social media and drew criticism from the opposition as well as the common people.
A petition was also filed in the Delhi high court seeking a direction to the government to depute senior officers to supervise cooking of proper healthy food and its distribution.
Close Story