BSF jawan, 4 civilians killed in Pakistan firing along border in Jammu's RS Pura
A 27-year-old constable of the Border Security Force was killed after Pakistani forces opened fire on Indian posts and villages along the International Border in RS Pura sector on Thursday night.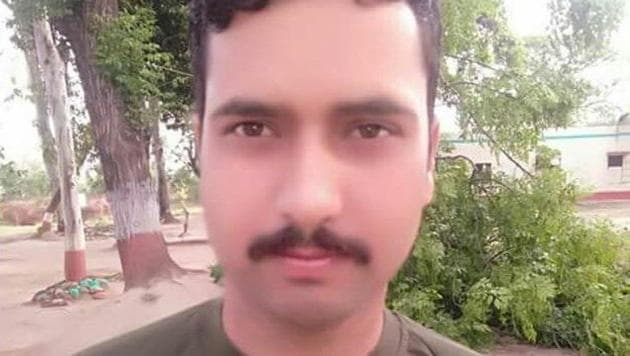 Updated on May 19, 2018 10:20 AM IST
Four civilians and a constable of the Border Security Force (BSF) were killed after Pakistan Rangers targeted Indian forward posts along the International Border (IB) in Jammu's RS Pura sector and Arnia subsector on Thursday night.
Unprovoked firing and attempts to infiltrate the border have increased in the last few days, and the latest incident comes ahead of Prime Minister Narendra Modi's scheduled visit to a farm university in RS Pura on Saturday.
The constable, identified as 27-year-old Sita Ram Upadhyay of the 192 battalion, was hit in heavy firing at Jabowal around 1:30 am. He was shifted to GMC Jammu, where he was declared brought dead at 3:20 am.
Hailing from Paaliganj in Jharkhand's Giridh district, Upadhyay is survived by a three-year-old son and one-year-old daughter.
A couple, Tarsem Lal and his wife Manjeet Kour, were killed in the shelling when a mortar exploded in their house in Chandu Chak village in RS Pura sector.
Two more civilians, who were grievously injured in Pakistan's shelling of Trewa village in Arnia sub-sector, were declared dead at a government medical college and hospital in Jammu while another were injured.
"One of the deceased has been identified as Satpaul, while the identity of the other is being ascertained. Their bodies have been shifted to the hospital mortuary," said a police officer on duty at the GMC police post, requesting anonymity.
"Firing in Heeranagar area was on during the intervening night of May 16 and 17 in which one BSF trooper was injured. Yesterday, during the daytime, it stopped but Pakistan resumed firing last night in Arnia sector which claimed the life of a jawan early today," a senior BSF officer said on Friday on condition of anonymity.
The officer added that in RS Pura sector of the IB in Jammu, unprovoked shelling of mortars and heavy fire from the Pakistani side started at about 4 am which was being "suitably countered" by the BSF units.
"The firing in RS Pura sector is intermittent," he said.
Big explosions of mortars could be heard in Jammu city through the night.
Earlier this week, a BSF jawan was killed along the Jammu border area while thwarting an infiltration bid
People of Arnia, the biggest town along the IB in the state with a population of over 20,000, have been asked to stay indoors.
Schools within a five kilometre radius of the border have also been closed as a preventive measure.
Meanwhile, Indian high commissioner Ajay Bisaria was summoned to the foreign office in Islamabad, where the acting foreign secretary condemned what was described as "unprovoked ceasefire violations" along the Line of Control(LoC) and the IB hat killed four civilians and injured 10 more.
A statement from the Foreign Office contended that Indian troops "continuously targeting civilian populated areas with heavy weapons". It added that the ceasefire violations are a threat to regional peace and "may lead to a strategic miscalculation".
The statement said there were more than 1,050 ceasefire violations along the LoC and international border this year that resulted in the death of 28 civilians and injuries to 117 others.
Pakistan asked the Indian side to respect the 2003 ceasefire arrangement and to investigate all violations.
(With inputs from Rezaul H Laskar in New Delhi and PTI)
Close Story