Cambridge Analytica whistle-blower says he believes Congress was client in India
Whistle-blower Christopher Wylie said Cambridge Analytica had done all kinds of projects in India.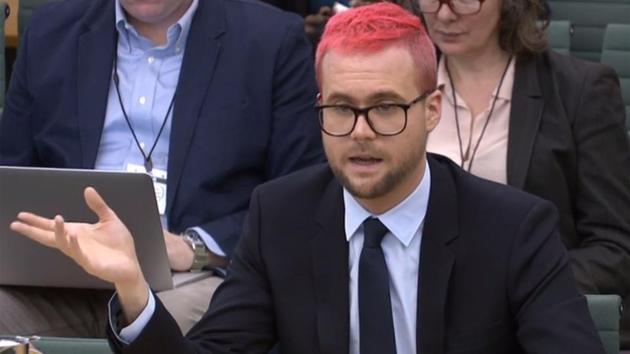 Updated on Mar 28, 2018 01:15 PM IST
Christopher Wylie, the whistle-blower who lifted the lid on political consultancy Cambridge Analytica's misuse of Facebook user data, said on Monday that he believed the Congress was a client of the company in India although it also had worked on "all kinds of projects" in the country.
Deposing before the digital, culture, media and sports committee of the British Parliament, Wylie, who said he joined the parent company Strategic Communications Limited (SCL) before Cambridge Analytica was formed, gave new details about "cheating" in the Brexit campaign and the firm's work in several countries.
Responding to a question on CA's work in India by Labour's Paul Farrelly, he said: "I believe their client was Congress, but I know that they've done all kinds of projects both regionally…I don't remember a national project, I know regionally.
"I mean India is so big, one state could be as big as Britain. But they do have offices there, they do have staff there. I believe I have some documentation on India which I can also provide to the committee."
Read: Amid data-privacy crisis, Facebook to delay launch of new products
The Congress maintained that it never hired Cambridge Analytica, which has been in the eye of the storm following revelations that it had access to Facebook user data. On Tuesday, the party dared law minister Ravi Shankar Prasad to file a first information report against the firm and its Indian partners and also against Facebook on the basis of the evidence obtained by the government.
"Why hasn't the law minister done that? ...If you don't have any answer, Mr law minister, you better quit the office…you have no right to remain the law minister of this country," party's chief spokesperson Randeep Singh Surjewala said.
He spoke after Prasad demanded an apology from the opposition party.
"Today the whistle-blower Christopher Wylie has confirmed that Cambridge Analytica worked with Congress. This has exposed (Congress president) Rahul Gandhi who was denying (it) all along. Congress and Rahul Gandhi must now apologise," said Prasad.
Farrelly said Wylie would be "very welcome" to provide the documentation he offered, and noted in his question that he had "focused on the world's biggest democracy with lots and lots of elections over time. You mentioned India as a prime source of business. You mentioned they've done quite a bit of work in India."
Close Story