Khattar says can't hold state BJP chief responsible for son in Chandigarh case
Updated on Aug 06, 2017 08:46 PM IST
Police arrested two persons, including the son of Haryana BJP chief, for allegedly stalking a senior IAS officer's daughter late on Friday night.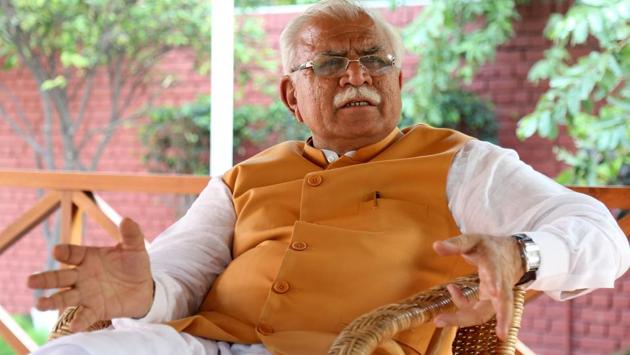 Chandigarh |
HT Correspondent
Haryana chief minister Manohar Lal Khattar on Sunday ruled out the resignation of state BJP chief Subhash Barala whose son was arrested for stalking a woman, saying the father couldn't be punished for son's action.
The Opposition is gunning for Barala after his 23-year-old son Vikas and his friend Ashish Kumar, 27, were arrested in Chandigarh on Friday after they allegedly chased and harassed the disc jockey who was driving home. The two were released on bail.
"The accused will be punished once found guilty. This is my official stand on this matter. This case has nothing to do with Subhash Barala. Such an act is highly condemnable if proved correct," Khattar told media in Hisar, defending his party colleague for the second time.
The incident comes as a huge embarrassment for the ruling BJP, which launched the Beti Bachao, Beti Padho (save and educate the girl child) campaign against female infanticide and also vowed to ensure safety of women.
Party leader Rajkumar Saini, who is a member of Parliament (MP) from Kurukshetra, joined the Opposition's chorus and said Barala should step down till his son's name was cleared. "Those who give lessons to others should also introspect," Saini, who has differences with the Khattar government, said.
Assuring that the accused would be punished, Khattar said it was incorrect to punish the state BJP chief for his son's alleged crime.
But the Opposition would have none of it.
Senior Congress leader and Rohtak MP Deepender Hooda accused the government of shielding the accused, questioning the bail granted to them.
"The government must not think the woman is alone. The entire public is with her. She must get justice," he tweeted on Sunday. The two men were drunk on power and alcohol, he said, referring to a police report that said high level of alcohol was found in their blood stream.
The Congress' women wing burnt Barala's effigy, demanding his resignation. Police must take strict action against his son, chief Krishna Poonia said.
Indian National Lok Dal leader Abhay Chautala said Barala was equally guilty and should resign immediately.
The two men have been booked for stalking and driving drunk on the complaint of the 29-year-old woman, who is the daughter of an IAS officer.
The two men followed her in their SUV around 12.35am on Friday. The SUV pulled up close to her car several times and even tried to block her way to force her on to other routes, she said in her complaint to police.
"I'm lucky, it seems, to not be the daughter of a common man, because what chance would they have against such VIPs? I'm also lucky, because I'm not lying raped and murdered in a ditch somewhere. If this can happen in Chd, it can happen anywhere," she wrote in a Facebook post.
Personalise your news feed. Follow trending topics