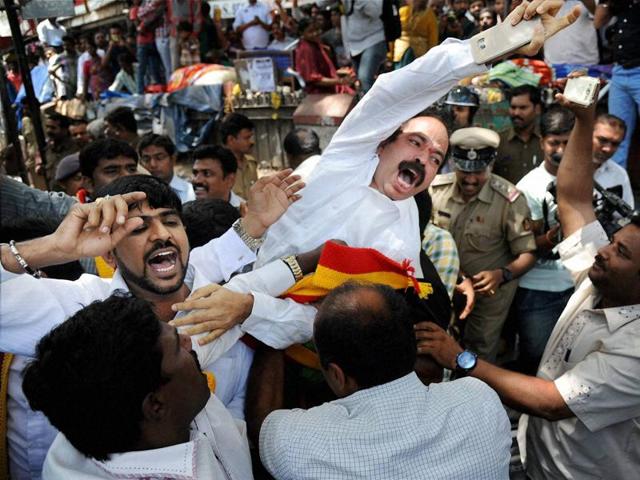 Cauvery water row explained: Here's why Karnataka, Tamil Nadu fight over river
The Supreme Court will hear on Tuesday a plea on directions to Tamil Nadu and Karnataka to take preventive measures in the matter of the Cauvery water dispute.
Hindustan Times | By KV Lakshmana
UPDATED ON SEP 20, 2016 01:29 PM IST
The Supreme Court will hear on Tuesday a plea on directions to Tamil Nadu and Karnataka to take preventive measures in the matter of the Cauvery water dispute.
Section 144 has been imposed in Mandya's Sanjay circle ahead of the top court's order.
Read: Karnataka braces for Cauvery order: Gatherings barred, bars shut in Bengaluru
Here's what you need to know about the ongoing Cauvery water dispute:
Core of the issue
Karnataka claims that the British-era agreement was not correct as it did not get its due share of water. On the other hand, Tamil Nadu believes that it needs the water to sustain extensive farming that has increased because of Karnataka's commitment to providing sufficient water.
Karnataka wants to triple its water share from the river, that originates from Kodagu and flows through Karnataka, Tamil Nadu, Puducherry and Kerala, which means there Tamil Nadu's portion will reduce.
History of the dispute
Historically, the dispute over sharing Cauvery waters dates back to the British era. The dispute between Karnataka and Tamil Nadu over sharing Cauvery neared a solution when the two warring sides, Mysore princely state and Madras Presidency reached an agreement in 1924.
Mysore was permitted to build a dam at Kannambadi village to trap 44.8 thousand million cubic feet of water. The agreement was to be valid for 50 years and a review thereafter was part of the agreement.
Not willing to accept the agreement, the two states took the dispute to the Supreme Court after Independence on several occasions but the matter could not be resolved.
Arbitration attempts
Mysore, named Karnataka after independence, asked Tamil Nadu seeking permission to make changes to various clauses after 12 years of independence. But Tamil Nadu refused to do so, saying they can be addressed only when the agreement runs out in 1974.
In the 1970s, Cauvery Fact Finding Committee found that Tamil Nadu's irrigated lands had grown from an area of 1,440,000 acres to 2,580,000 acres while Karnataka's irrigated area stood at 680,000 acres, resulting in an increased demand of water for Tamil Nadu.
A study conducted by the central government in 1972 said the utilisation of water from Cauvery in Tamil Nadu was 489 one thousand million cubic feet (tmc ft) against Karnataka's 177 tmc ft.
Cauvery Water Tribunal
As both states refused to agree through talks, the Centre constituted the Cauvery Water Tribunal in 1990. After hearing both sides for years, the tribunal in its final award in 2007 gave 419 tmc ft for Tamil Nadu and 270 tmc ft for Karnataka. Kerala was awarded 30 tmc ft and Pondicherry 7 tmc ft.
Both governments challenged the decision in the Supreme Court.
Present agitation
The dispute escalates when monsoon fails, as there is lesser water to share. And this year, Karnataka and Tamil Nadu have received less than normal rainfall during the monsoon. Karnataka says it cannot release water to TN for agriculture as it needs it for drinking water purposes.
Close