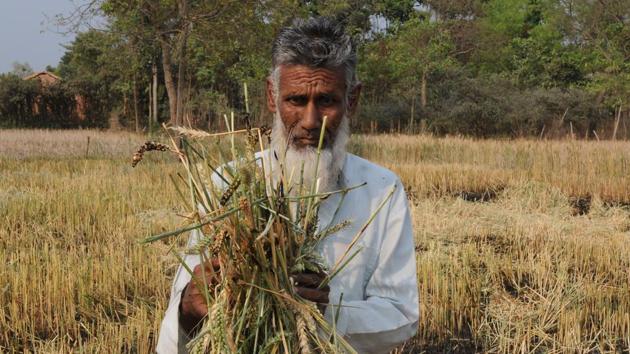 Centre to impose penalties for delays in settling farmers' crop insurance claims
The government had launched the PMFBY in 2016-17, dismantling two previous poorly-designed schemes and replacing them with a simplified programme.
By New Delhi
UPDATED ON SEP 14, 2018 10:14 AM IST
The Modi government will impose penalties on state governments, insurance companies and banks for delays in settling crop insurance claims of farmers, by far the biggest hurdle in the flagship Pradhan Mantri Fasal Bima Yojana scheme (PMFBY), according to an official familiar with the development.
Penalties for payment delays, which stoke discontent among farmers, signal an aggressive approach to boosting the performance of a programme central to the government's farm agenda. Farmers often receive compensation after year-long delays. Timely claims settlement is critical to the scheme's success.
The government had launched the PMFBY in 2016-17, dismantling two previous poorly-designed schemes and replacing them with a simplified programme. Yet, the farm ministry has had to troubleshoot systemic hurdles in the new scheme.
Farmers pay between 1.5 and 2% of the total premium. The rest is shared 50-50 between the Centre and states.
Over the past year, the government has relied on a raft of technologies – from remote sensing to Android apps – to iron out bottlenecks.
State governments will have to pay penalties if they do not pay farmers within applicable deadlines after the Centre pays its share of subsidy, the official said.
Insurance firms will have to pay penalties at the rate of 12% for payments delayed beyond a month. Banks are also proposed to be fined if they do not submit actuarial data on time, the official said. The changes have been vetted by the Prime Minister's Office and the finance ministry, a second official said.
"I do not think penalties are a good idea because a lot of improvements are already taking place. There are many stakeholders in the insurance scheme. State governments often provide yield loss estimates to insurance companies very late," said Rajeev Chaudhary, the chief risk officer of the Agriculture Insurance Company of India Ltd.
Tussles between states and insurance companies over estimates of crop losses and computation of claims are a key bottleneck. Often, insurance companies suspect fudging of data.
For transparent estimation of crop losses, the most crucial step, the ministry has developed an Android app for hand-held devices and harnessed satellite technologies
Pointing out drawbacks in the PMFBY, the government's committee on doubling farmers' income, in its report, Risk Management in Agriculture, had said the "number of bidders in the drought-prone rainfed areas have been relatively lesser, resulting in premium rates as high as 25%". This points to cherry-picking or the practice of insurance firms selectively bidding for low-risk areas.
The number of farmers, who opted for insurance, fell 17% to 47.9 million in 2017-18, from 57.4 million in 2016-17. Area coverage under the scheme rose to 57.1 million hectares in 2016-17, the initial year, from 52.4 million hectares in 2015-16, when a different insurance regime was in force. However, in 2017-18, the area insured fell to 47.5 million hectares. Of the total premium of ~19,000 crore in kharif 2017, payouts have been made to the tune of ~14,000 crore.
Close