China behind Pak's growing confidence, supplies 63% of Islamabad's arms need
Sep 30, 2016 01:46 PM IST
China supplies 63% of Pakistan's armaments, with the USA dropping to 19% and second place, an IndiaSpend analysis reveals.
Until five years ago, the USA and China shared an almost equal proportion of Pakistan's arms imports: 39% and 38% respectively. Today, China supplies 63% of Pakistan's armaments, with the USA dropping to 19% and second place, an IndiaSpend analysis reveals, as Pakistan mulls a response to India's strike on terror camps across the border.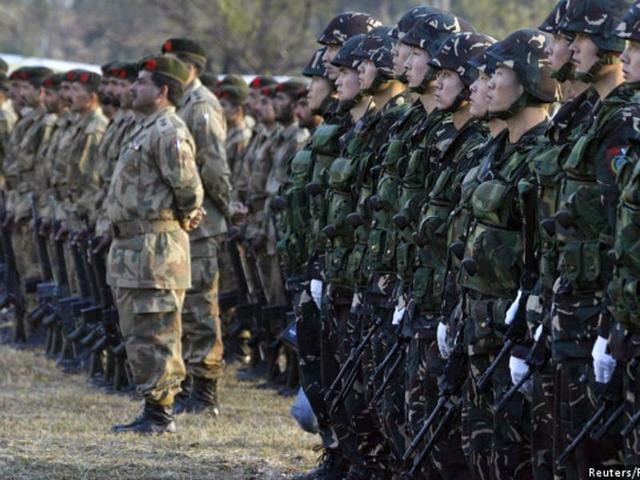 China's rise to becoming the world's third-largest arms exporter was to a large degree helped by heightened demand from Pakistan, which now buys 35% of these exports and is Beijing's biggest buyer (Bangladesh follows at 20%), according to this February 2016 report from the Stockholm International Peace Research Institute (SIPRI).
The military supplies are bolstered by unwavering support at a time of heightened tension with India and faltering ties with the US (there was a 73% drop in US security aid over four years to 2015, The Wire reported in August 2016; the US also cancelled the subsidised sale of eight F-16 fighter jets).
Source: Stockholm International Peace Research Institute
Last month, Pakistan's ministry of defence production confirmed a contract with China for the purchase of eight conventional diesel-electric submarines, which will cost between $4 billion to $5 billion (Rs. 25,600 crore to Rs. 33,200 crore), China's biggest defence export deal.
The submarines could have a nuclear strategic capability–they could be used to launch nuclear-tipped land attack cruise missiles, providing Pakistan with a partial second-strike capability to rival India's nuclear-submarine ballistic missiles.
The submarines are the latest of several big ticket arms purchases by Pakistan. Others:
Between 250 to 300 JF-17 fighter planes jointly developed by China and Pakistan. These will form the backbone of the Pakistani Air Force. Nigeria has signed a memorandum of understanding to purchase an unknown number of JF-17 aircraft, according to IHS Jane's, a defence/aerospace publication, making Pakistan a defence exporter.
Four 2,5000-ton Zulfiquar-class frigates at a cost of $500 to $750 million. Three of these were constructed in China, the fourth in Karachi.
Four 560-ton Azmat-class fast attack craft, essentially missile boats armed with eight C-802 anti-ship missiles meant for littoral defence. Three of four are being manufactured in Pakistan.
600 Al Khalid tanks produced in Pakistan form the backbone of the Pakistan army's armoured corps. They are variants of Chinese Type 90-II tank.
Nine HQ-16 medium range surface-to-air missile systems with a maximum intercept range of 40 km at a cost of $600 million.
Four Karakoram Eagle airborne early warning & control aircraft (AWACS) at a cost of $278 million.
From 2011 to 2015, China sold $8.4 billion worth of arms, overtaking long-established arms exporters France ($8 billion) and Germany ($6.7 billion), although it still lags the leaders: the US ($47 billion) and Russia ($36.2 billion).
China's share in the international arms exports market has risen from 3.6% in 2006-10 to 5.9% in 2011-15. France's market share has declined from 7.1% to 5.6%, and Germany's, from 11% to 4.7%, during this period.
The period coincides with China's emergence as a major global power, seeking to challenge US hegemony across various areas and with enough heft to keep India unbalanced, either directly or through Pakistan.
(Sethi is a Mumbai-based freelance writer and defence analyst.)
The story was first published by IndiaSpend, India's first data journalist initiative.