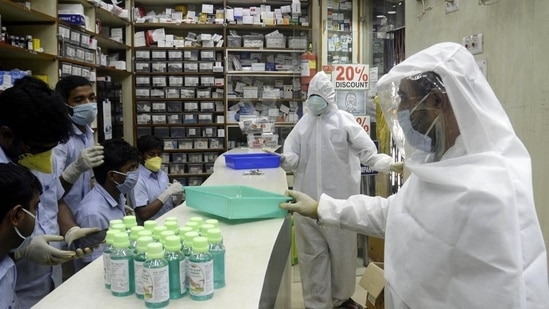 Complete lockdown in Tamil Nadu starting May 10 as Covid-19 cases rise
During the lockdown period, residents can buy groceries, vegetable till 12pm. Meat shops will also follow the same timing. Amma canteens will also function.
By
hindustantimes.com
| Written by Shivani Kumar | Edited by Avik Roy
, Hindustan Times, New Delhi
UPDATED ON MAY 08, 2021 02:00 PM IST
The Tamil Nadu government on Saturday decided to impose a lockdown for two weeks, starting May 10 as daily cases of coronavirus disease rise unabated.
During the lockdown period, residents can buy groceries, vegetables and meat products till 12 noon, authorities announced. Amma canteens will also function.
Transport services will also be affected as the government only allowed cabs and autos to ply for purposes of weddings, funerals, exams and jobs interviews.
Click here for complete Covid-19 coverage
All government and private offices have been asked to allow their staff to work from home.
Movement of healthcare workers, caregivers and volunteers has been allowed. However, they will need to show valid identity proof to police, if required.
Until the lockdown begins, all shops will remain open on Saturday and Sunday from 6am to 9pm only.
Tamil Nadu is among the ten states that are reporting a spike in daily cases of infection. According to the Union ministry of health and family welfare, Tamil Nadu, Maharashtra, Delhi, Uttar Pradesh, Kerala Karnataka, Bihar, West Bengal, Andhra Pradesh and Rajasthan, accounts for 71.81 per cent of new Covid-19 cases.
On Friday, state chief minister MK Stalin flagged the "severe crisis" over the availability of medical oxygen in Tamil Nadu and urged Prime Minister Narendra Modi to intervene and ensure it gets supplies. He also asked the Centre to make available containers and trains to transport the life-saving gas to the state.
Indicating that the death of 13 people at a government hospital in Chennai hospital was due to possible oxygen shortage, Stalin said the availability of the gas is "very, very critical."
Tamil Nadu's daily consumption of medical oxygen was around 440 mt, it is likely to increase to 840 mt in the next two weeks, Staling pointed out in the letter to PM Modi. It was the first communication to PM Modi after taking oath as the next chief minister of the southern state on May 7.
Tamil Nadu has a total of 1,323,965 confirmed cases of Covid-19 and the number of active cases has increased to 135,355. The death toll in the state stands at 15,171.
Close