Congress on Ashok Gehlot's 'gaddar' jibe at Sachin Pilot: 'Will resolve...'
Updated on Nov 24, 2022 10:36 PM IST
In an interview to a leading news publication, Gehlot launched his biggest attack on Pilot, whom he pipped in the race to the chief minister's post four years ago.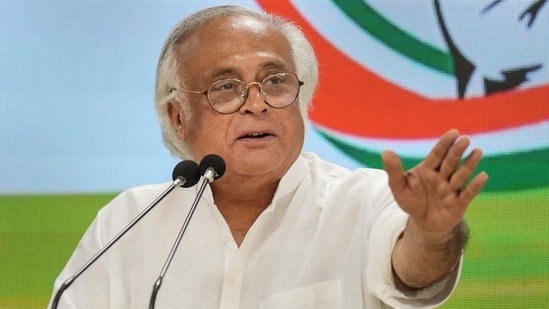 The Congress on Thursday called for resolution of differences between warring leaders Ashok Gehlot and Sachin Pilot. Reacting to the Rajasthan chief minister's 'gaddar' (traitor) jibe at his adversary, All India Congress Committee (AICC) general secretary Jairam Ramesh said, "Shri Ashok Gehlot is a senior and experienced political leader. Whatever differences he has expressed with his younger colleague Shri Sachin Pilot will be resolved in a manner that strengthens the Congress Party".
"Right now it is the duty of each and every Congressman and Congresswoman to make the already hugely successful Bharat Jodo Yatra even more impactful in the North Indian states", he added.
In an interview to NDTV, Gehlot launched his biggest attack on Pilot, whom he pipped in the race to the chief minister's post four years ago.
"A gaddar (traitor) cannot be chief minister... the Congress high command cannot make Sachin Pilot the chief minister... a man who doesn't have 10 MLAs. Who revolted. He betrayed the party, (he) is a traitor," Gehlot said.
Responding to the jibe, Pilot called the allegations "baseless". "Ashok Gehlot called me nakara, gaddar... they are baseless allegations. There is no need for it", Pilot said while reacting to Gehlot's outburst.
"BJP was poorly defeated in Rajasthan when I was the party president. Still, Congress president gave another chance to Gehlot to become CM. Today the priority should be on how we can again win Rajasthan election", he added.
The simmering tensions between Pilot and Gehlot came out in the open in 2020 when the former had staged a rebellion against the veteran leader. The 45-year-old leader along with his supporters had staged a dharna outside the Raj Bhavan before moving to Haryana. The rebellion had taken place months after a similar coup in Madhya Pradesh which had resulted in the collapse of the Kamal Nath government.
It was after Gandhi family efforts that Pilot's rebellion was doused. In June this year, Gehlot had accused his rival of being in connivance with the Bharatiya Janata Party to topple his government.
The Rajasthan Congress showdown came out in the open recently ahead of the elections to the party president's post.
Gehlot's loyalists staged a rebellion over Pilot getting the apparent backing of Congress's high command for the CM chair if Gehlot were to contest the party leadership polls. It resulted in Gehlot exiting the party presidential race and Mallikarjun Kharge winning the contest with a decisive victory.
Personalise your news feed. Follow trending topics