Corruption at peak: Manmohan Singh stings PM Narendra Modi on notes ban, CBI vs CBI
Nov 21, 2018 11:06 PM IST
At a press conference in Indore, Manmohan Singh said, "The rule of law is under attack. History shall never forgive our present generation if the situation is not changed."
Prime Minister Narendra Modi's November 2016 notes ban move today came under a three-point attack from former PM Manmohan Singh. Addressing a press conference in Madhya Pradesh's Indore, Singh minced no words in his criticism of the government's move to invalidate high-value currency notes.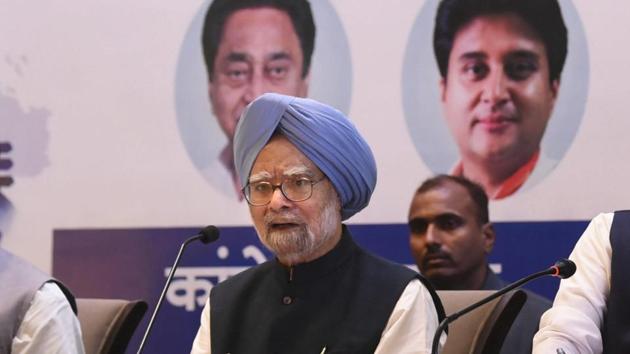 Manmohan said: "Demonetisation was a monumental failure and the Modi government will never accept this. Demonetisation did not achieve any of the objectives stated by the Modi government... no black money was recovered."
This is not the first time that the former PM has spoken out against the notes ban decision. Manmohan has earlier referred to the move as being nothing more than "organised loot and legalised plunder" and has dubbed November 8, 2016, as a "black day for Indian economy".
Addressing the press conference, Singh said corruption was peaking in the Modi government. "The country has witnessed credibility of institutions like Parliament and CBI being systematically denigrated. There is a careful, well-thought-out and calibrated effort to weaken democracy," he said.
"The rule of law is under attack. History shall never forgive our present generation if the situation is not changed," he said.
Continuing his attack on the NDA government, he said that the note ban and the "flawed" Goods and Services Tax (GST) of the NDA government have caused a "great damage" to the unorganised sector.
"The next Congress government will simplify the Goods and Services Tax (GST) but demonetisation is a done act; Now people should take every step to get rid of a government which took them to this disastrous path," he said.
On Tuesday, speaking at Jhabua in Madhya Pradesh, PM Narendra Modi had justified the notes ban saying, "When termites strike, the most poisonous chemical is required to treat it. Corruption spread on such a scale during Congress regime that I had to use a bitter pill of demonetisation to treat the same so that those who looted the poor returned the money to the country's treasury."
During his tenure as prime minister, Manmohan Singh's government had been beset with allegations of corruption and multiple scams by the opposition led by the BJP.
Two days ago, the UPA chairperson Sonia Gandhi had hailed Manmohan Singh's integrity humility and sagacity and also reminded people of his unique and different leadership style.
"His demeanour is such that it appears that he was born wise. He is the very epitome of integrity, humility, sagacity and gravitas. Not for him tall claims. Not for him empty and fanciful boasts. Not for him self-promoting bombast. Not for him falsifications of facts and history. Not for him the language of abuse and vitriol," she said about Singh, who won this year's Indira Gandhi Prize for Peace, Disarmament and Development.