Dalai Lama offers prayers under Mahabodhi Tree for world peace
Jan 02, 2018 06:26 PM IST
During his month-long stay at Bodh Gaya, the Tibetan spiritual leader will deliver his discourses to more than 50,000 disciples from across the world at Kalchakra Maidan in two special sessions
BODH GAYA: Tibetan spiritual leader Dalai Lama on Tuesday visited Mahabodhi Mahavihara, a Unesco heritage site, at the temple town of Bodh Gaya in Bihar on Tuesday and offered prayers for world peace under the Mahabodhi Tree where Gautama Buddha attained enlightenment about 2500 years ago.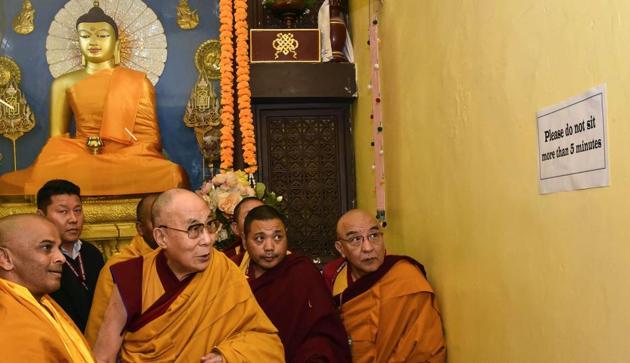 After remaining near the legendry tree for about an hour, the Dalai Lama entered the sanctum sanctorum of the Mahabodhi Temple and meditated in front of the statue of Lord Buddha.
Prominent monks and chief priest of the Bodh Gaya Temple Management Committee (BTMC) were also present on the occasion.
Meanwhile, more than 3000 security personnel, more than the existing strength of Gaya police, have been deployed to provide unprecedented security to the Dalai Lama, who arrived at Bodh Gaya, 110 km south of Patna, from Sarnath on Monday evening. Personnel of intelligence agencies and Bihar criminal investigation department (CID) are also keeping a vigil on the Buddhist pilgrimage town.
READ| Nine blasts in 30 minutes rock Bodh Gaya, Buddha's abode bombed in Mahabodhi temple
During his month-long stay at Bodh Gaya, the Tibetan spiritual leader will deliver his discourses to more than 50,000 disciples from across the world at Kalchakra Maidan in two special sessions between January 5 and 7 as well as between January 14 and 16. The Nobel Peace Prize winner is also expected to attend the opening function of the three-day Bodh Mahotsav on February 1.
A camp police station had also been set up at the Kalchakra Maidan, Gaya senior superintendent of police Garima Malik said.
The security arrangements, worked out in association with different intelligence agencies of the Centre as well as of the state, would continue until the departure of the Dalai Lama from Bodh Gaya.
Bodh Gaya had witnessed a terror attack with nine serial explosions rocking the Mahabodhi Temple complex in July 2013.
READ| Serial blasts fail to deter tourist inflow in Bodh Gaya
Meanwhile, Central Tibetan Administration (CTA) sources said though the Dalai Lama was scheduled to leave Bodh Gaya on February 1, he might change his travel plan to attend the opening ceremony of the Bodh Mahotsav.
"Bihar chief minister Nitish Kumar is likely to meet him in the last week of January during his Vikas Sameeksha Yatra and request the spiritual leader to grace the Bodh Mahotsav. The Dalai Lama has been a great admirer of Kumar for his initiative to enforce total ban on liquor and his campaign against dowry," the CTA sources said.