Dalit freedom march begins in Gujarat, with promise of change
Leaders of protest say poorest Dalits and the youth have galvanised movement.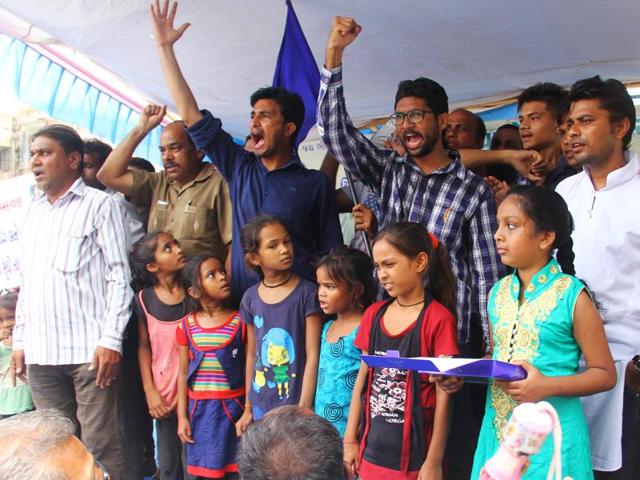 Updated on Aug 12, 2016 02:03 PM IST
At around 8.30am on Friday, a framed picture of Dr Bhimrao Ambedkar was put on a stage at the crossroad near Vejalpur railway crossing in Ahemedabad. First came onlookers, but in 90 minutes the crowd in front of the stage swelled to more than 300 people.
People had come to see off Dalits as they began their 'Azadi Kooch' (Freedom March), a 350-km foot march from Ahmedabad to Una, where on July 11 members of a cow vigilante group flogged four Dalit men for skinning a dead cow. The perprtrators filmed the incident and their video went viral.
Student leaders, members of the civil society and lawyers were seen exchanging views on the Dalit agitation in Gujarat, its reasons, timing and consequences.
Ahmedabad to Una: The great Gujarat Dalit march for 'freedom' set to begin
All were unanimous in extending their support to the cause of the marginalised. But "No, I am not going all the way to Una," was the response of those found most vocal at the flagging off venue.
Around 12.30pm, the sound of "Jignesh tum aage badho, ham tumhare saath hain" made it impossible to hear anything. Jignesh Mevani, face of the current Dalit unrest across the state, gave a speech in Gujarati, listing the charter of demands on which he will mobilise people during the foot march.
As the yaatra kickstarted, members of the civil society and scheduled caste community in Gujarat told HT that age-old discrimination meted out to Dalits, changing aspirations of the community members and political crisis in the state have contributed to the current wave of Dalit anger across the state.
While Dalits have traditionally been victims of various forms discrimination, this the first time in the recent history that the community has mobilised on a large scale.
But unlike previous incidents of violence on Dalits which go unnoticed, the Una episode instigated a wave of unrest among the community. More than 20 members of the community have attempted suicide to register their protest. One of them died. In a mahasbha (grand assembly) in Ahmedabad, Dalits pledged to boycott their occupations of disposing carcasses and manual scavenging.
Mewani, a lawyer and founder of the Una Dalit Atyachar Ladai Samiti, said that unlike previous agitations which are backed by Dalit leaders, NGOs working for the rights of the marginalised and political parties, the current movement is being built by the youth of the community. "Dalit protests in different states involve Dalit literature, folk songs and philosophy. The result is that those protests remain confined to limited number of people. The current round of protest has reached to the downtrodden Dalit. It has touched them like no other protest," he said.
"Dalits see mainstream media as Brahmanical- a medium that does not care about them. This is why we built this movement through social media," he added.
There is a belief political unstability in the state-Anandiben Patel resigned as Guajarat chief minister on Monday- has a role to play in the agitation."There is a faction in the BJP that wants Guajarat to remain unstable. The Patidar agitation and Dalit unrest will work in favour of that faction," said, Harinesh Pandya, an Ahmedabad-based activist.
An upsurge in atrocities against Dalits and the impunity enjoyed by the perpetrators is also seen as a significant reason for the Dalit unrest. More than 500 Dalits were murdered in Gujarat between 1990 and 2015. The conviction rate in cases of atrocities on Dalits, was 3.4% in 2014. In 2012, four Dalit men were killed in police firing in Thangarh, Surendranagar. The case remains unresolved. The flogging of Dalits in Una was not an isolated case. Soon after, another video, shot in May, emerged. It showed people thrashing Dalits, accused of slaughtering a cow, at a tannery in Saurashtra.
"Tolerating discrimination is a way of life for Dalits in Gujarat like elsewhere in the country. But since the NDA government came to power at the centre, cow vigilantes started enjoying impunity across the country. It made things worse for Dalits," said Pratik Sinha, a member of Manav Sangharsh Samiti, a civil society group in Ahmedabad.
Close Story