Days after Jharkhand breach, govt websites continue to bleed Aadhaar data
Hindustan Times, New Delhi/ Ranchi |
Aman Sethi, Samarth Bansal and Saurav Roy
Apr 29, 2017 06:31 PM IST
Digital identities of more than a million citizens had been compromised by a programming error on a website maintained by the Jharkhand Directorate of Social Security.
Days after Hindustan Times reported a data breach of over a million Aadhaar numbers from a Jharkhand government website, at least four more instances of similar leaks on other government websites have come to light.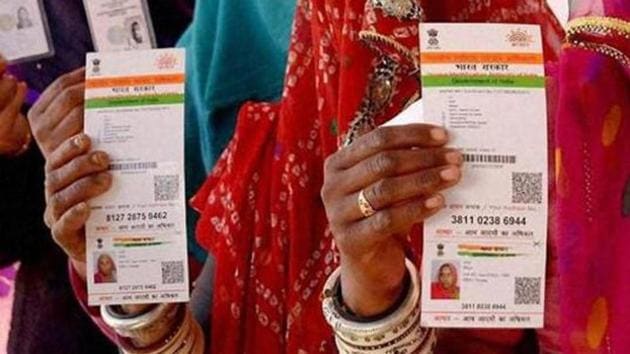 These breaches come at a time when the Supreme Court is hearing a set of petitions challenging a controversial government decision to make it mandatory to seed Permanent Account Numbers (PAN) with Aadhaar numbers for filing income tax returns.
"We have taken the Jharkhand incident very seriously," said Ajay Bhushan Pandey, CEO of the Unique Identification Authority of India (UIDAI), noting that publishing UID numbers was illegal, "Appropriate action will be taken against those responsible under the Aadhaar act."
The unsecure websites investigated by HT include a scholarship database in Uttar Pradesh, a public distribution system website in Chandigarh, a pensioners dashboard in Kerala and a Swach Bharat Mission website maintained by the Ministry of Water and Sanitation, which cumulatively compromise the digital identities of thousands of citizens.
Some of these websites were taken down after HT reporters approached the relevant authorities for comment, but in other cases, the confidential information is still online and available for all to see.
"I just do not understand why and how this is happening," said Jairam Ramesh, a senior Congress leader who has been critical of the Aadhaar rollout, "The only word I can use to describe this is 'atrocious'."
In Jharkhand, the UIDAI moved swiftly to shut down the website. On Monday, state officials sought to implement an additional layer of security to protect those whose identities have been compromised by the leak.
"You cannot see the Aadhaar numbers anymore on the website. We are working on a One-Time Password (OTP) system for added security," said Jharkhand social welfare secretary MS Bhatia, explaining that Aadhaar holders seeking to access the website will now get an OTP prior to logging in.
"The leakage instances show that the technical readiness of the government is just not in place to tackle a project of this scale," said Apar Gupta, a Supreme Court lawyer and a petitioner in the Aadhaar cases, "This has been happening across state governments and departments."
Gupta explained that central government notifications to seed discreet databases with Aadhaar numbers had created sensitive aggregations of citizen data at the state-level. "But these notifications have no guidance whatsoever about the data security protocols that need to be followed," Gupta said.
In the absence of central guidance, each state department has created its own unique way of storing the data, often with the help of private software companies.
Pandey, the UIDAI CEO, said the ministry of Electronics and Information Technology has written to all state governments and the ministries asking them not to display such information. "If they do, they will have to face action," he said.
Yet activists noted that in each data breach, the UIDAI and state authorities acted after user identities had already been compromised, and provisions in the Aadhar Act mean that citizens have no legal recourse to this intrusion.
"A person by himself does not have any recourse to ensure that leak is closed and for legal action for improper disclosure of personal information," explained Gupta, the lawyer, "Only the UIDAI authorities can register a case."
"The UID numbers leaked in Jharkhand could be used for the next fraud based on identity-theft," said Sunil Abraham, Executive Director of the Centre for Internet and Society, noting that authorities are investigating the use of Jan-Dhan accounts for money laundering during demonetisation. "At a bare minimum, the UIDAI should issue new ID numbers to protect those affected by the data breach."
Pandey, however, said issuing new UIDs was not an option.
"Our track record has no case of identity of theft or financial loss and if anything comes, we have the ability to track the culprit," Pandey said.
When asked if this unblemished track-record had ever been independently audited, Pandey demurred.
"Whosoever is supposed to audit us is auditing us," Pandey said, "But the names can't be disclosed due to security reasons."