Mamata Banerjee to invite Opposition leaders for post-Covid victory rally
May 04, 2021 05:52 AM IST
TMC won 213 out of the 292 assembly seats to register a comprehensive victory against the BJP.
Fresh from her definitive win against the Bhatariya Janata Party, All India Trinamool Congress (TMC) chief and West Bengal chief minister Mamata Banerjee has her eyes set on a larger national role for herself and plans to invite the leaders of several regional parties to a mega rally in Kolkata, but only after the Covid-19 pandemic subsides.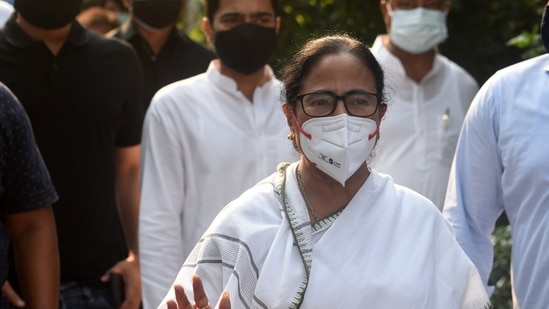 Kunal Ghosh, a former Rajya Sabha member and a senior spokesperson of TMC said that while "currently Mamata Banerjee's entire focus is on Covid management," the party will, once the pandemic ebbs, organise a "mega rally at the Brigade Parade Ground" and invite "all Opposition leaders who have congratulated Didi for her stupendous victory."
The Nationalist Congress Party's Sharad Pawar, Shiv sena chief and Maharashtra CM Uddhav Thackeray, Delhi CM Arvind Kejriwal, Samajwadi Party chief Akhilesh Yadav, DMK chief and Tamil Nadu's incoming chief minister MK Stalin and many regional leaders congratulated Banerjee on Sunday after she swept Bengal in one of the most-intense political battles in recent times. Parties such as Rashtriya Janata Dal and the Shiv Sena had supported TMC in the assembly poll. TMC won 213 out of the 292 assembly seats to register a comprehensive victory against the BJP.
TMC strategists are looking at a 1996-like situation for the 2024 election with Banerjee at the centre of the anti-BJP coalition. "This round of elections has again proved that the Congress is not able to contain the BJP whereas the regional parties are playing a key role in fighting against the BJP. Naturally, the regional parties should be at the forefront in the 2024 elections," added Ghosh.
But the Congress still thinks it has a role. Some Congress leaders do not rule out the possibility of negotiating with a stronger force of regional parties in the coming days. A senior strategis said, "It will not be like the UPA of 2004 but like the United Front of 1996."
Other TMC leaders said Mamata doesn't have the "political baggage" of the Congress even as her roots had been in the party.
CPIM chief Sitaram Yechury , meanwhile, doesn't see Banerjee as a pivotal player in the opposition space, but he is no more opposed to sharing the opposition space with her. "... The need of the hour is that all anti-BJP forces must come together...," he said.