Protesting girls who go out of campus after 8 pm complain about security: BHU VC
Updated on Sep 27, 2017 09:35 AM IST
BHU vice-chancellor Girish Chandra Tripathi says should not compete for equality as girls require more security than the boys.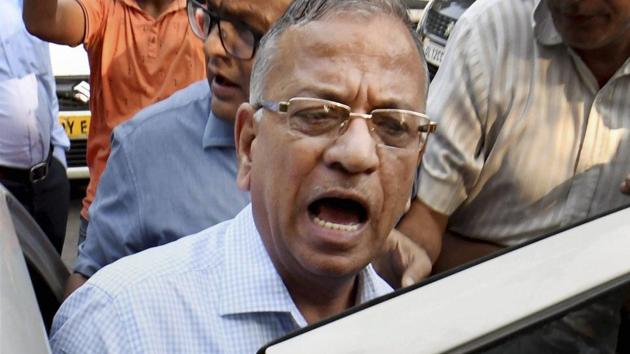 The vice-chancellor of Banaras Hindu University, Girish Chandra Tripathi, said the girls protesting the molestation of a student are the ones who "go out of the university campus after 8pm".
"If you check the register, you will find the girls who go out after 8 pm are the ones who are protesting. We have a record of that. The ones who don't go out don't even complain." He then offers to claim there is "no problem" should they decide to go out after 8pm.
Facing storm after police opened lathis on girls protesting the incident even as the accused molesters remain unidentified, Prof Tripathi has virtually given himself a clean chit, drawing parallels with how the Haryana police has failed to locate a known face like Honeypreet Insan (daughter of rape convict Dera chief Gurmeet Ram Rahim).
"But no one is writing about (Honeypreet) whereas people who have not even been identified (the accused in BHU incident), how can we arrest them?" said Tripathi, speaking to HT in New Delhi where he had arrived earlier for the University's executive council meeting.
He said that if there is any discrimination on BHU campus, "then it is actually in favour of the female students as girls require more security than boys". There are 8,000 girls in BHU hostels as compared to 25,000 males.
Both groups have different timings to return to the hostel at the day's end. While boys can stay out until 10pm, girls are required to be back by 8pm. On why there's a need for different timings, Tripathi said it's because "boys don't require such security".
"The security issue is more sensitive for female students in comparison to boys, and hence we are taking extra care by restricting them (girl students) to 8 pm. Why are we competing for such equality? I can't make rules according to every girl student," argued the V-C.
Tripathi said he has spoken to the guardians of the girl students "who tell me I am completely right (in imposing the restriction)". "And they are not jailed inside the campus after 8pm. They can still go out after taking permission from their guardians," he said.
The V-C also dismissed allegations that the campus was unsafe, saying tenders have been floated for more CCTV cameras. "The allegation that BHU is unsafe is not correct. It is a huge campus and a thoroughfare. Thousands of people use it."
"We have a mechanism in our security system which says that only ex-military persons can be hired for security purpose and we don't get women for this job. We have a scheme called 'earn while you learn' under which I met female students who said they will take care of the security system. There are around 40-45 students who will be there during any sensitive incident. I also told them to revisit the security plan that is being made. They are so powerful that they can handle anyone," he said.