Dr Kafeel, brother arrested in Gorakhpur in nine-year-old fraud case
Hindustan Times, Gorakhpur/ Bahraich |
HT Correspondents
Sep 24, 2018 10:14 AM IST
Suspended BRD Medical College paediatrician accused of using documents of another person to open a bank account.
Suspended BRD Medical College paediatrician Dr Kafeel Khan and his brother Adeel Khan were arrested in Gorakhpur on Sunday in connection with a nine-year-old fraud case in which he (Kafeel) had allegedly used the documents of another person to open a fake bank account and conduct transactions through it while studying medicine at Manipal University in 2009, police said. Dr Kafeel's brother Adeel Khan is a co-accused in the case.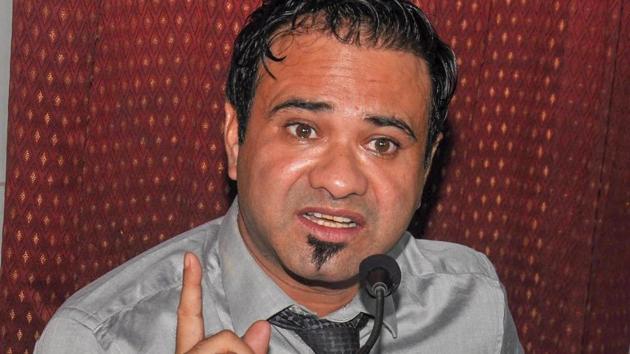 Dr Kafeel Khan is also one of the nine accused in a case relating to death of children in Gorakhpur in August last year allegedly due to disruption in oxygen supply following non-payment of bills. He is currently out on bail in that case.
Dr Kafeel's arrest comes hours after he was released in Bahraich on Saturday night after having been taken into custody on Saturday afternoon for allegedly disturbing services at the Bahraich district hospital.
A team led by superintendent of police, Gorakhpur City, Vinay Singh and Cantonment circle officer Prabhat Kumar Rai arrested Dr Kafeel Khan and his brother on the direction of Gorakhpur senior superintendent of police Shalabh Mathur.
The action was taken soon after a crime branch team took him to Gorakhpur from Bahraich , where was detained on charges of creating a ruckus in district hospital and was booked under Section 151(unlawful assembly and disruption of peace ) before being released later on bail.
Rai said a case under sections 419 (punishment for cheating), 420 (fraud), 468 (forgery for the purpose of cheating), 471 (using a fake document) and 120 B (criminal conspiracy) was lodged against Kafeel in 2009 at Gorakhpur's Rajghat police station by one Muzaffar Alam, resident of the city's Sheshpur. In his complaint, Alam had accused Dr Kafeel of using his (Alam's) photo and ID to open a fake bank account with the State Bank of India and using the same to carry out transactions of over Rs 82 lakh , while studying medicine at Manipal University, Kerala, the circle officer said.
"He was wanted in the fraud case and today (he) was arrested with his brother, who is a co-accused," said the CO.
Earlier on Saturday, Dr Kafeel Khan had reached Bahraich district hospital on Saturday along with his driver and another aide. He started questioning the patients admitted at the hospital about the treatment being given to them. He allegedly argued with the doctors and medical staff after which chief medical superintendent Dr DK Singh called the police and he (Dr Kafeel) was taken into custody. His brother Adeel Ahmad Khan said Dr Kafeel had come to Bahraich after he came to know that over six dozen children died of mysterious fever in the past 50 days. According to Dr Kafeel the children died of encephalitis, Adeel Khan said.
Dr Kafeel was going to address media when he was taken into custody, Adeel claimed.
Additional superintendent of police Ajay Pratap said action under section 151of the CrPC was taken against Dr Kafeel Khan and he was released with a warning that stricter action would be taken against him if tried to disrupt peace in the district.
Mohd Shahnawaz, a close associate of Dr Kafeel's family said Dr Kafeel was taken to Gorakhpur by Bahraich police and handed over to the cantonment police there.