Elephant set to carry howdah in next Dussehra dies in attack by rouge tusker
Published on Nov 25, 2022 12:27 AM IST
An elephant pitched to be the successor to carry the golden howdah during the next years's Dussehra celebration in Mysuru, died on Wednesday from injuries sustained in a fight with another elephant in the district's Hunsur city, people familiar with the matter said on Thursday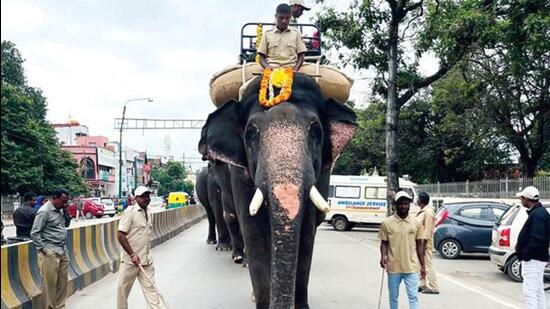 Coovercolly Indresh I Edited by Shilpa Ambardar
An elephant pitched to be the successor to carry the golden howdah during the next years's Dussehra celebration in Mysuru, died on Wednesday from injuries sustained in a fight with another elephant in the district's Hunsur city, people familiar with the matter said on Thursday.
38-year-old Gopalaswamy was to succeed Abhimanyu, the elephant who is set to retire.
Karnataka chief minister Basavaraj Bommai on Thursday mourned the death of Gopalaswamy.
Bommai tweeted, "Gopalaswamy, who has been participating in the world-famous Mysore Dussehra Jumbo Savari procession, died in a fight with a wild beast at Mattigodu camp in Hunsur. I pray for the soul of Gajaraj. Om Shanti."
The tusker was captured in Sakaleshpura in Hassan district in the year 2009.
According to the forest department officials, the elephant was staying in Veeranahosalli elephant camp near Hunsur after participating in the Mysuru Dussehra festival, where he has been a constant participant.
As usual, his mahout had sent Gopalaswamy out into the forest on Tuesday for grazing. But when the elephant did not return back to the camp, the mahouts went to search for the elephant. They found the elephant collapsed on the ground with severe wounds, a forest department officer said.
The radio collared wild elephant Ayyappa attacked Gopalaswamy and severely wounded him, said the officer. The elephant's limbs were broken and he was unable to even stand, said the officer. The forest officers rushed to the spot with veterinarians but the elephant had succumbed to the injuries.
"Ayyappa is a rogue elephant... (and) has created menace inside the villages. Hence, the forest department attached a radio collar with the elephant to prevent entry into human habitats," Nagarhole ACF B Dayananda said.
"The officials had been training Gopalaswamy since Abhimanyu is getting old. As per the Supreme Court directions and Union government guidelines, the elephants aged above 60 cannot be given any task," Nagarhole tiger reserve project director Harsha Chikkanaragund said.
Abhimanyu is 58-year-old and the department had planned to retire the elephant from Jambu Savari work, he said.
Last Dussehra, Gopalaswamy had carried a wooden howdah for 5 kilometres comfortably, the director said, adding, "and he was found to be fit to carry the howdah for next year's celebrations but unfortunately he died". Gopalaswamy had also led a herd of elephants in the Srirangapatna Dussehra celebrations in October last year and was part of the forest department operations during the human-animal conflict, he said.
Personalise your news feed. Follow trending topics