'Final assault on poverty': Rahul Gandhi on
₹

12K income poll promise

Rahul Gandhi said that if his party came to power at the Centre, it would ensure that India's 20 per cent poorest families would make at least

₹

12,000 every month.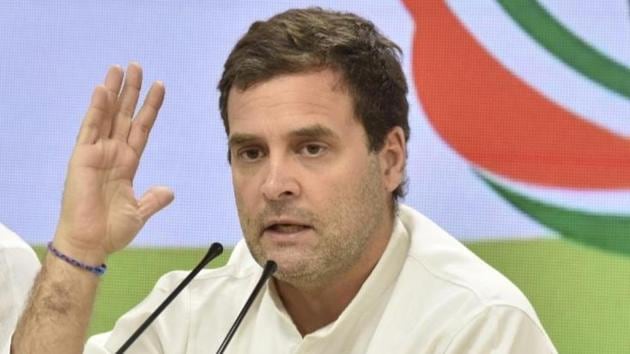 Updated on Apr 24, 2020 07:05 PM IST
Congress president Rahul Gandhi on Monday pledged to roll out a monthly income guarantee scheme, if his party comes to power at the Centre, to ensure India's 20 per cent poorest families make at least ₹12,000 every month. The scheme would cover 5 crore families and benefit nearly 25 crore people, said Gandhi after the Congress Working Committee cleared the plan that party president described as the "final assault on poverty".
This is about justice for the poor, said Gandhi at a press conference to announce the contours of the guarantee scheme that will make its way to the Congress manifesto ahead of the 2019 Lok Sabha elections.
"We are going to give you justice. Remember the number… The Congress guarantees that 20 per cent of India's poor would make at least ₹72,000 annually," he said, describing it as a historic move.
Watch| 'Will eradicate poverty': Rahul Gandhi's ₹72,000/yr plan for 5 crore families
The Congress chief insisted that the plan was "fiscally prudent" and implementable.
This does not mean everyone would get the ₹12,000 dole. Gandhi explained that if a family makes ₹6,000, the government would chip in the rest to raise the monthly family income to ₹12,000.
Back in January, Rahul Gandhi had announced the guarantee scheme but hadn't spelt out its broad contours. The government's think-tank NITI Aayog had then run down the plan, declaring that India neither had the kind of fiscal space, nor the kind of complete data needed to implement such a scheme.
Gandhi insisted the Congress had done its homework.
"We have checked it again and again and again. It is fiscally, perfectly possible. We committed MGNREGA (rural job guarantee scheme), we did it. We will eradicate poverty from India," he said. The Congress leader said the job guarantee scheme had pulled out 14 crore people out of poverty. That, he said, was the first phase.
"In the second phase, 25 crore people will be pulled out... It is an extremely powerful, dynamic and extremely well thought-out idea… We have done the calculations," he said.
The income guarantee plan fits with Rahul Gandhi's campaign pitch that targets Prime Minister Narendra Modi and the ruling BJP, accusing them of working for the rich.
"This country has one flag. The prime minister's politics creates two Indias," he said.
Also Read : OPINION | Ushering in a new social contract through Minimum Income Guarantee
The scheme will be called "nyay" or justice, he said, adding that it would be rolled out in phases.
The scheme is widely seen as a version of universal basic income (UBI), a concept that entitles families to a certain threshold sum of money regardless of whether they work or not.
UBI first became part of the official discourse when the country's then chief economic adviser Arvind Subramanian proposed it in the Economic Survey 2016-17. But the government did not pursue it.
Close Story