'Couldn't have asked for more': Arun Jaitley opts out of PM Modi's new team due to health reasons
Hindustan Times, New Delhi |
HT Correspondent
May 18, 2020 03:08 PM IST
Arun Jaitley's letter comes a day before PM Modi begins his second term in office after what the finance minister described as a spectacular victory in the Lok Sabha elections
Finance Minister Arun Jaitley has written to Prime Minister Narendra Modi, asking him not to give him any responsibility in the new government due to health reasons. The finance minister's letter, which he released on his Twitter handle, comes a day before PM Modi begins his second term in office.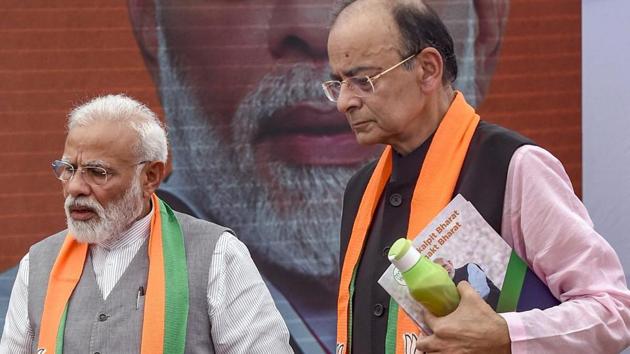 Jaitley told the prime minister that he had been facing some serious health challenges over the last 18 months and had, with the help of doctors, emerged out of most of them.
In his letter, Arun Jaitley recalled his conversation with PM Modi after the grueling campaign for the seven-phase elections ended earlier this month.
"After the campaign concluded and you were leaving for Kedarnath, I had orally informed you that even though I was able to discharge the responsibilities assigned to me during the campaign, I would in future, for some time, like to keep away from any responsibility. This will enable me to concentrate on my treatment and health," the finance minister said in his letter to the Prime Minister.
"I am writing to you to formally request you that I should be allowed a reasonable time for myself, my treatment and my health, and therefore, not be a part of any responsibility, for the present, in the new government," he wrote.
The minister added that he would, however, be able to "undertake any work informally to support the government or the party".
Also read | 'Their product was Mr Modi. They marketed him very well': Shashi Tharoor
Arun Jaitley's decision implies that PM Modi will have to induct a new finance minister in his second term. When Jaitley was indisposed on two occasions, PM Modi had temporarily asked Piyush Goyal to hold interim charge of the finance ministry.
Jaitley oversaw introduction of key reforms in the last five years including introduction of the goods and services tax – dubbed India's biggest indirect taxation reform - and the bankruptcy code that boosted the ease of doing business in India.
In his letter to PM Modi, Jaitley recalled the many responsibilities that he had been blessed with in the party, the Atal Bihari Vajpayee-led first NDA government and later, PM Modi's government. "I could not have asked for more," he wrote, describing his five years in PM Modi's government as a "great honour and a learning experience".
PM Modi and the BJP's master strategist Amit Shah had led the party's election campaign that delivered 303 Lok Sabha seats to the BJP. The NDA has a strength of 353 MPs in the 543-member Lok Sabha.
WATCH: Amid 'Modi, Modi' chants, PM addresses MPs after being elected NDA leader
PM Modi and other members of the Union council of ministers will take oath of office at 7 pm on Thursday. Rashtrapati Bhavan.
Delhi Chief Minister Arvind Kejriwal reacted to Arun Jaitley's announcement. "I have known him since many years and despite political differences, I have always found him to be affectionate and warm," the Aam Aadmi Party chief said, wishing the lawyer-turned politician a speedy recovery.
Also read | Mamata Banerjee to skip PM Modi oath after invites to killed Bengal BJP workers' kin