Five drown in Cauvery river in Tamil Nadu, flood alert across 12 districts
Updated on Jul 22, 2018 06:49 PM IST
Despite warning issued by the district administration against venturing into the river, six people entered the river at Reddiyarpalayam for taking a bath.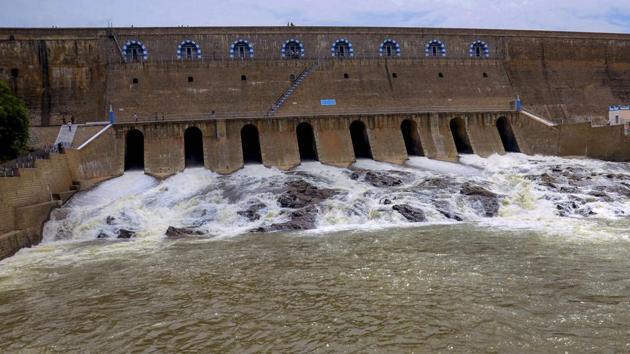 Hindustan Times, Chennai |
M Manikandan
Five people including three women drowned in Tamil Nadu on Sunday after they were washed away by a flood while bathing in the Cauvery river in Salem district following the release of excess water from the Stanley reservoir of the Metur dam.
"When six people were bathing in Cauvery water at Reddiyarpalayam which is about three kilometres away from Mettur dam, a seven-year-old boy was washed away into the flood. Five others tried to rescue him but four of them lost their lives," said C Murugesan, district fire service officer in-charge, Salem.
"The deceased have been identified as G Vaishnavi (20), N Saravanan (35), S Mythili (32), S Raveena (17) and S Hariharan (7). We rescued one G Dhanushri (18) alive but we could only recover the dead bodies of four others. We are yet to retrieve the body of Hariharan," said the officer.
Saravanan, his wife Mythili and their children Raveena and Hariharan from Vijayamangalam of Tiruppur district were visiting their relative's house in Reddiyarpalayam on Sunday. Two of his relatives Vaishnavi and Dhanushri who were sisters had gone with Saravanan's family to take bath in the Cauvery when the tragedy struck, Murugesan said.
The PWD which maintains the dam had been releasing 20000 cusecs of water every day since Thursday to reduce strain on the Stanley reservoir. Authorities say they had issued mandatory warnings about possible flooding before and after the release of excess water.
Authorities had sounded a flood alert in Dharmapuri, Salem, Erode, Namakkal, Karur, Trichy, Thanjavur, Tiruvarur, Nagapattinam, Cuddalore, Pudukkottai and Ariyalur.
"We have given flood alerts through media, loudspeakers and notices. Also, we have kept danger signboards at 30 vulnerable points in the Salem district. Boat operations have also been stopped. Police and fire service forces are kept ready to respond to the unexpected situation. Tourists who are visiting Mettur should not enter into the river. No one should take selfies by the river," Rohini Bhajibakare, collector of Salem told Hindustan Times.
While describing the loss of lives as unfortunate, she also said that she had informed collectors of 11 other districts about the increase in outflow of water.
"Since the rains continue in Karnataka, the outflow from Karnataka dams would increase 70,000 cusecs on Monday. So, we have decided to release 30,000 cusecs of water on Sunday night. I have alerted the collectors of low lying districts from Mettur," Rohini told HT.
K Rajamani, collector, Trichy district said they have identified 20 vulnerable spots and have deployed special rescue monitoring forces comprised of police, revenue and fire service department officials.
"We have advised the locals not to bathe in rivers. Since Thottiyam-Thiruvembur is an extremely vulnerable flood prone area of Cauvery river, we have asked the locals residing on the banks to evacuate," Rajamani said.
In the tail end of the river in Nagapattinam district where the water enters into the sea, the flood-prone areas have been identified through drones.
"We deployed drone cameras to assess the vulnerable spots in Nagapattinam, Thalainayar, Vedaranyam where the estuaries are lying. Proper warning messages have been sent to the locals," said M Thamimul Ansari, special tehsildar, disaster management agency, Nagapattinam.
Personalise your news feed. Follow trending topics