Haryana CM breaks silence after 5 rapes in 5 days, calls incidents 'unfortunate'
Updated on Jan 17, 2018 05:38 PM IST
The latest incident of rape in Haryana was reported on Wednesday from Hisar, where a three-year-old girl was allegedly raped by her teenage neighbour.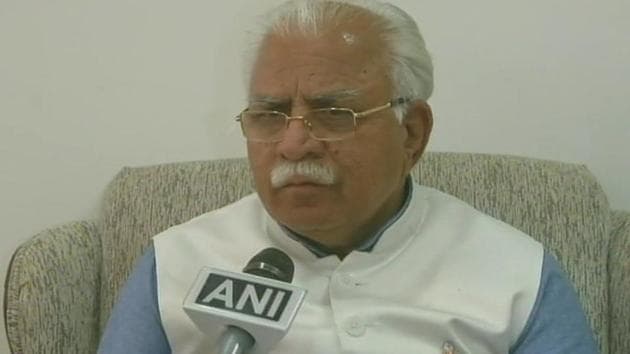 In his first response to five rapes in five days in Haryana, chief minister ML Khattar on Wednesday termed the incidents as "unfortunate" and said his government will take strict action.
Khattar also enumerated steps taken by the government to address the situation, arrest the culprits and make the state a safer place for women.
"We have made changes in the police administration and transferred a few officers...We started Dial 100 Project, will also begin 1090 Project so that women in danger can immediately contact police. We'll look into matters, take help of counselling or legal action as the need be. We've set up special courts for speedy trials of such cases," Khattar said.
In the past five days, assaults on women and girls have been reported from Kurukshetra, Panipat, Hisar, Jind and Faridabad. In some cases, the girls' private parts were mutilated, a reminder of the brutal gang rape and murder of a physiotherapy student in Delhi in December 2016 that led to a huge uproar across the country.
The incidents come two days after the Khattar government made an announcement on Haryana's improved sex ratio — 914 girls per 1,000 boys in 2017, which is an all-time high.
Khattar also appealed to political parties not to politicise the matter.
Earlier in the day, former Haryana chief minister Bhupinder Singh Hooda lashed out at the ruling BJP government, saying "lawlessness" and "lack of leadership" were the main reasons behind increased crime in the state.
"There is lawlessness in the state. The Haryana government has no leader, some ministers are angry, some are sulking and there is no direction," Hooda told ANI after a meeting with Governor Kaptan Singh Solanki on the issue.
"Multiple rape incidents make us hang our head low in shame. The state government must resign on moral grounds. We've asked the Governor to dismiss the government if they don't resign and implement President's rule here," Hooda told reporters.
The latest incident of rape was reported on Wednesday from Hisar, where a three-year-old girl was allegedly raped by her 14-year-old neighbour. The Haryana police has arrested the teen.
Here's a look at the four incidents reported over the past five days:
Kurukshetra minor's gang rape: Kin allege police inaction
The family of a 15-year-old Kurukshetra girl who was gang raped and murdered on Friday, have accused the police of inaction. Medical examination revealed the girl was raped by multiple persons and a blunt object was inserted into her private parts. The girl was a good student and aspired to be a doctor, said her family.
Men gang-rape woman in car in Faridabad
A 23-year-old woman was abducted and gangraped in a moving car in Old Faridabad on Saturday. The woman was bundled into the car, raped and later dumped on Mathura road. The woman accused three persons of committing the crime. The accused are at large.
Neighbours rape 11-year-old in Panipat
The semi-naked body of an 11-year-old girl was recovered in Panipat on Sunday. Police arrested two of her neighbours, who confessed to having raped and murdered her, the superintendent of police said.
48-year-old held for sexually assaulting, brutalising 10-year-old
A 48-year-old man allegedly sexually assaulted a 10-year-old girl and inserted a stick into her private parts in Pinjore on Saturday. Based on a complaint by the girl's mother, the man, who was their neighbour, was arrested on Sunday.
Close Story
Personalise your news feed. Follow trending topics