Flights, trains disrupted as fog envelopes Delhi amid biting cold
Jan 09, 2023 10:27 AM IST
Delhi recorded its fifth consecutive cold wave day as the mercury plunged to 3.8°C at Safdarjung, the city's representational weather station, and 3.2°C at Ayanagar
A flight from Sharjah was diverted to Jaipur, over 50 flights were delayed and at least 29 trains were running late by two hours or more as a "very dense fog" blanketed Delhi on Monday and reduced visibility to 25 metres at Safdarjung and 50 metres at Palam amid biting cold and "severe" pollution levels.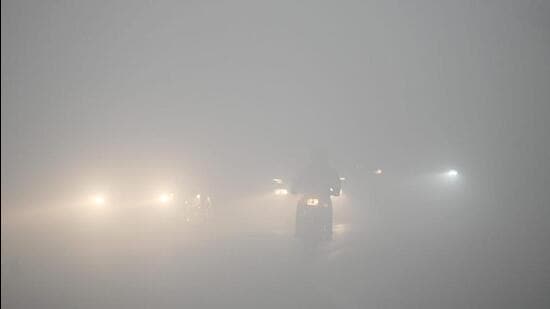 Delhi recorded its fifth consecutive cold wave day as the mercury plunged to 3.8°C at Safdarjung, the city's representational weather station, and 3.2°C at Ayanagar. A cold wave is declared in the region when the minimum temperature is 4.5°C or more below the normal mark, or when it drops to 4°C or lower.
Safdarjung has been recording a cold wave since January 5 when the mercury plunged to 3°C. On Friday, Delhi recorded a minimum temperature of 4°C, 2.2°C on Saturday, and 1.9°C on Sunday.
A combination of fog, calm winds, and low temperatures pushed the air quality index to the "severe" category. Delhi has Stage III or the severe category measures in place to deal with it as part of the Graded Response Action Plan (GRAP). The Commission for Air Quality Management (CAQM) in NCR on Friday implemented the measures after the AQI touched 400.
Under GRAP Stage III, private construction activities are banned while brick kilns and hot mix plants not operating on clean fuels are closed. People are advised to choose cleaner commutes -- shared rides, public transport, cycling, or walking. They are advised to work from home, if possible, combine errands and reduce trips outside, etc.
Officials said the dense fog started enveloping the Delhi airport around 1am on Monday and the visibility was below 200 metres even till 9:30am. "At 7:30am, we had the runway visual range oscillating between 100 and 125 metres. CAT III A and CAT III B procedures have been in place, which will impact flights," said an official.
Low visibility procedures are initiated at the airport for making landings easier when visibility dips below 800 metres. During this period, CAT-I procedures, the most basic set of precautions in place to guide pilots in landing, are in place. Only CAT-II-compliant flights and pilots are allowed to land when visibility is less than 550 metres.
CAT-III A complaint pilots can land when visibility is between 175 and 300 metres. CAT-III B is the most stringent qualification for a pilot to land a flight, allowing landing even when visibility is 50 metres.
Flights can still land at the airport when visibility is 50 metres. No flights are allowed to depart unless the runway visibility range is 125 metres.