Former Bengal governor Gopal Gandhi may be opposition's choice as presidential candidate
In a rare show of unity, arch rivals CPI(M) and Trinamool Congress, which has more than 64,000 votes, are also backing Gandhi's candidature.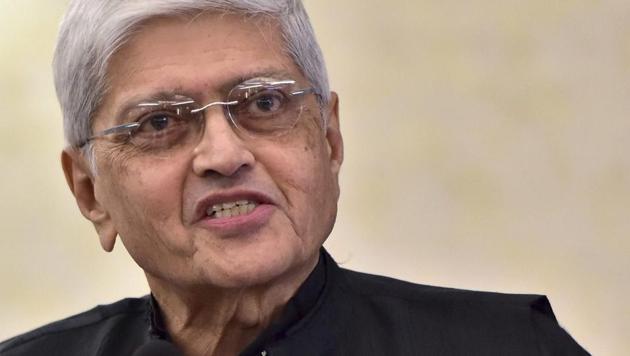 Updated on May 11, 2017 08:08 PM IST
Mahatma Gandhi's grandson and former governor of West Bengal Gopal Krishna Gandhi may emerge as the opposition's candidate in the upcoming presidential election that will be held in July.
Gandhi's name has come up in internal discussions of opposition parties and according to a news report, preliminary discussions with him have also taken place.
In a rare show of unity, arch rivals CPI(M) and Trinamool Congress, which has more than 64,000 votes, are also backing Gandhi's candidature.
"Gandhi will be the first and possibly the only choice for Mamata (Banerjee). She had earlier batted for Gandhi as the vice-president candidate," sources close to the West Bengal chief minister told the Hindustan Times.
Banerjee is scheduled to meet Congress president Sonia Gandhi next week to chalk out the strategy for the presidential election. Banerjee, who enjoys an excellent personal rapport with Gandhi, will arrive in Delhi on Monday and is likely to meet the Congress chief on Tuesday.
Trinamool Congress' votes are crucial for the opposition to give a close fight to the Bharatiya Janata Party (BJP).
The left parties have already proposed Gandhi's name to the Congress leadership.
Top opposition sources told HT that when CPI(M) leader Sitaram Yechury met Odisha chief minister Naveen Patnaik last week in Bhubneshwar, Gopal Gandhi's name was also mentioned during the discussions.
Gandhi, an eminent scholar and a former civil servant, was appointed as the governor of West Bengal during the United Progressive Alliance (UPA) regime. He was India's ambassador to South Africa and some other countries. The son of Devdas Gandhi also enjoys a clean image.
Gandhi's candidature, however, is not final as the Congress president is yet to complete discussions with different opposition leaders.
One opposition leader also pointed out that although Gandhi is an ideal candidate with excellent credentials, he may not be able to garner votes from the National Democratic Alliance (NDA) camp like Nationalist Congress Party (NCP) chief Sharad Pawar.
A section of the opposition is keen to field Pawar as he enjoys tremendous rapport across party lines and may be able to secure votes from the BJP's biggest ally, Shiv Sena.
The opposition, with around 4 lakh votes, requires widespread support from many fence sitters and may also seek votes from a section of the NDA to win the presidential poll.
The names of Draupadi Murmu, Sumitra Mahajan, Sushma Swaraj, M Venkaiah Naidu, and Thawar Chand Gehlot are also doing the rounds as the NDA's likely presidential nominees.
Close Story