Four years of Modi govt: 'Problem of plenty', agriculture slowdown challenges for NDA
May 26, 2018 08:49 AM IST
The Narendra Modi-led government announced a series of measures to help the agriculture sector, including a Budget announcement to ensure minimum support price and a price-deficiency payment mechanism.
India's agriculture sector, which employs roughly half the population, has been roiled by what economists call "downside shocks". It's been a problem of plenty: output has soared on the back of a good monsoon while the prices farmers receive have frequently crashed.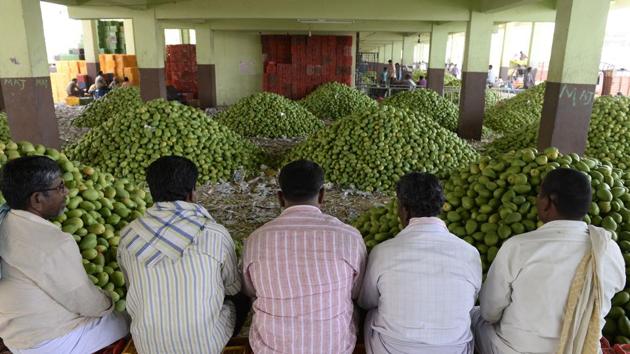 The rural economy has been hobbled by slower agricultural growth. The first two years — 2014-15 and 2015-16 — under the Modi government were drought years. The agricultural growth rate, which is the value of all goods and services produced in the sector and a key measure of its performance, declined 0.2% in 2014-15. The next year, it barely grew at 0.6%. A good monsoon in 2016-17 drove the rate to 6.3%. The sector slowed again in 2017-18, with a 3% growth rate. The average agricultural growth rate under NDA's four years is 2.4%, compared to 4.3% between 2010-11 and 2014-15.
The rural economy has also had to contend with slower rural wage growth, particularly because of sluggish construction activity, which accounts for the largest chunk of rural non-farm employment.
Rural dissent can be politically challenging. Falling agricultural prices have sparked farmer protests in many BJP-ruled states, such as Madhya Pradesh, Maharashtra and Rajasthan. Each of them, along with Uttar Pradesh, announced farm loan waivers.
The government also announced a series of short and medium-term measures, including a Budget announcement to ensure minimum support price and a price-deficiency payment mechanism. These are still works in progress. This year has been different from typical years for Indian agriculture. The country has seen a reduction in acreage and sowing in both kharif (summer-sown) and rabi (winter-sown) crops. "In fact, it's not your typical surplus leading to large declines in prices," chief economic adviser Arvind Subramanian had said at the launch of this year's Economic Survey. Yet, in crops like gram (channa) and soyabean, increases in production led to a large price reduction. Lower sowing led to lower demand for farm labour, causing rural wages to decelerate.
Mirroring the fall in agricultural prices, retail inflation declined sharply between 2015-16 and 2018-17, averaging 4.7%, falling by more than half from 10.2% in the preceding five years. Falling food inflation, which has had a big role in this, has also been the result of a combination of factors. Good monsoons and surplus output apart, lower increases in minimum support prices and sluggish global commodity prices have also contributed to farm distress.
The shocks of demonetisation and the Good and Services Tax are dissipating but they impacted the agriculture sector. Farm exports fell by 3.1% average between 2015-16 and 2018-19, compared with 19.5% growth between fiscals 2010-11 and 2014-15. "In 2015 and 2016, agricultural output fell due to poor rains and when production picked up in the next two fiscals, collapse in agricultural prices hit farm incomes," said economist Madan Sabnavis. The 2018-19 kharif season beginning June will be critical as farmers await announcement of government's proposals to ensure remunerative prices.