From PM Narendra Modi to Muslim personal law Board: Who said what on triple talaq
The Supreme Court delivered its verdict on the constitutional validity of triple talaq on Tuesday.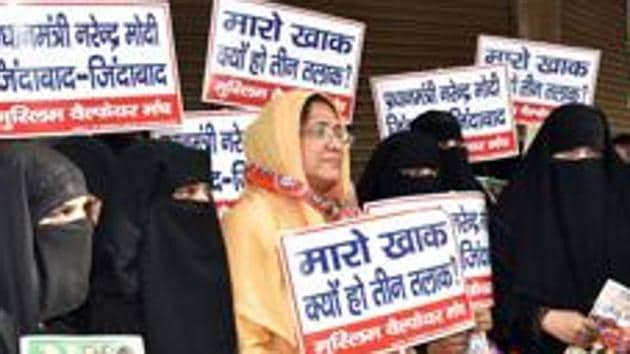 Updated on Aug 22, 2017 01:29 PM IST
Hindustan Times, New Delhi |
HT Correspondent
The Supreme Court on Tuesday delivered its verdict on the validity of triple talaq -- a practice that allows men to divorce their wives by saying 'talaq' thrice -- under the Constitution.
From Prime Minister Narendra Modi supporting women's rights to Congress' Kapil Sibal debating the legality of the practice, here's what has been said about triple talaq:
Uttar Pradesh minister Swami Prasad Maurya
"These 'talaq' have no basis.... if someone only for satisfying his lust keeps changing his wives and forces his own wife and children to beg on streets... no one will call this right."
"BJP stands with Muslim women who have been given talaq unreasonably and arbitrarily... we want to help such victims get respect."
Bahujan Samaj Party chief Mayawati
"From media reports, it does not seem that senior persons associated with the Muslim personal law boards are serious about Muslim women getting justice on the issue of triple talaq…we do not feel that the board will be able to ensure justice for Muslim women soon…the apex court should ensure justice for them."
Prime Minister Narendra Modi in April 16
"Muslim women are facing difficulties on the issue of triple talaq. We should work for solution at district level."
Prime Minister Narendra Modi during his Independence Day speech
"I pay my respects to those women who had to lead miserable lives due to Triple Talaq and then started a movement which created an environment in the whole nation against the practice,"
"I want to tell them that they will succeed as the whole country supports them in this significant step towards women's empowerment."
Five-judge constitution bench of Supreme Court
"(There are) school of thoughts (that) say that triple talaq is legal, but it is the worst and not desirable form for dissolution of marriages among Muslims."
Congress leader Salman Khurshid
"The All India Muslim Personal Law Board says triple talaq is sinful yet valid. I personally cannot imagine any religion which can validate a sin. A sin cannot be part of Sharia, which is god ordained. Something which is sinful for the law ordained by god cannot be legal."
Congress leader Kapil Sibal while arguing in the SC
"If I have faith that Lord Rama was born at Ayodhya, then it's a matter of faith and there is no question of constitutional morality. And why should court interfere? Similar is the case with triple talaq."
Uttar Pradesh chief minister Yogi Adityanath
"These days, there is a new debate in the country on a burning issue. Some people are maintaining silence on this issue. This reminds me of the scene in the Mahabharata in which Draupadi is being disrobed and she asks a question to the gathering as to who is responsible for this incident, this sin?"
"No one uttered even a single word. Only Vidur said people who have committed the crime, the accomplices and those who maintained silence on this issue are equally responsible," Uttar Pradesh chief minister Yogi Adityanath said, referring to triple talaq.
All India Shia Personal Law Board spokesperson Maulana Yasoob Abbas
"The need of the hour is to enact a strict law against triple talaq in one go that is similar to the anti-sati law to prevent any Muslim woman from getting victimised and ensure that the culprit is punished."
All India Muslim Personal Law Board president Mohammaed Rabey Hasan Nadwi
"It is our responsibility to implement it and the best way is to ensure that is following its guidelines. Islamic Sharia gives equal status to men and women. The truth is that talaq was kept to protect women from danger."
Close Story
Personalise your news feed. Follow trending topics