Gender gap in Indian formal sector worse than global average, LinkedIn data shows
Arjun Srinivas and Samarth Bansal
Nov 14, 2018 07:23 PM IST
Every industry sector in India employs more men than women. Moreover, the gender gap among Indian professionals is worse than the global average in every sector.
The gender gap in the Indian formal sector is pervasive: at least 85% of the workforce comprises men in transportation, construction and manufacturing; in hi-tech, this proportion is around 72%, according to an analysis of LinkedIn data. Every industry sector in India employs more men than women. Moreover, the gender gap among Indian professionals is worse than the global average in every sector.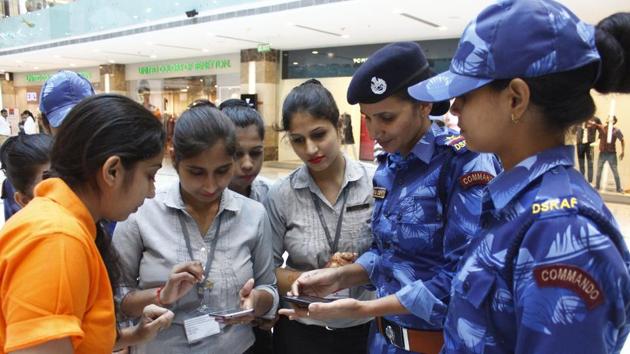 The findings come from a Hindustan Times analysis of anonymous and aggregated data of around 50 million Indian professionals that have a LinkedIn account. Data was extracted from LinkedIn's advertising platform.
As joining the professional networking site is voluntary, LinkedIn stats don't precisely match with actual numbers. However, other employment estimates and experts suggest that the actual gender gap in the Indian formal sector might be as much or even larger.
Industry-wise bias
LinkedIn groups 115 industries into 17 high-level industry groups, all of which are heavily skewed towards men.
Of the 115, only two industries have almost equal proportion of men and women: Primary and Secondary Education has 46% men, while Human Resources has 51%.
"The fact that there are substantially more LinkedIn profiles for men in India relative to women reflects the fact that men are more likely to be employed in highly skilled occupations in India relative to women," said Ridhi Kashyap, Associate Professor of Social Demography at Nuffield College, Oxford University, referring to the platform's primary user base that is employed in white-collar jobs.
In fact, the bias in certain sectors becomes clear when compared with global figures. Consider this: Globally, four of the 17 industry groups -- Legal, Education, Medical and Healthcare, and Non-Profit Organizations -- have more women representation than men. But in India, even these sectors are skewed towards men.
"Female work participation rates are lower in India than in a majority of other countries with comparable level of development," said Sonalde Desai, Professor of Sociology at the University of Maryland. This is primarily due to gender norms that inhibit women from seeking work and in discouraging employers from hiring them in certain fields, she added.
Worst sectors: Transportation and manufacturing
The transportation sector has the worst gender balance in India. Going by LinkedIn profiles, the workforce of Tata Motors in India comprises 88% men; 88.6% in Maruti Suzuki. The companies did not respond to HT's request for comment.
For Suzlon group, a renewable energy service provider, LinkedIn data suggests that 89% of its Indian employees are men. The overall ratio is even worse. Suzlon Group CEO J P Chalasani said that the company has over 7,000 employees across 18 countries, of which 5% were women.
"Traditionally engineering & manufacturing sector has a low ratio of women workforce, owing to the nature of the industry. However, we have seen an improvement in the ratio over the years," Chalasani said. "Our wind and solar farm projects and operations are based at remote locations, where it is extremely difficult to hire women employees." The company has initiated #Women@Work campaign to increase diversity at work and improving gender ratio, he added.
Three in four employees in high-tech industries are men
In the high-tech industry, which includes IT, aviation and pharmaceuticals, 72 % of the employees are men. For example, Amazon India's workforce comprises around 72.5% men; Google India's, 70% ; Tata Consultancy Services', 67%. The companies did not respond to HT's request for comment.
For Infosys, the LinkedIn figure corresponds exactly with the company data: 64% of the employees are men. "At the entry level, we see an equal number of women and men joining us," Richard Lobo, Head of Human Resources and Executive Vice President at Infosys Limited, said. He added that Infosys has taken actions "in terms of flexibility in work timings, work from home option, special support for women responsible for childcare or eldercare" to help create better opportunities for women in the workforce
How LinkedIn data matches with reality
LinkedIn gender gaps show a pattern that is consistent with other labour force statistics, Kashyap, the Oxford University professor said. "Data from National Sample Surveys in India indicate that there were roughly 4 men for every 1 woman in highly skilled occupations and about 13 percent of all management and senior positions were held by women," referring to official survey data from 2012.
By this yardstick, the Linkedin estimates actually overestimate the number of women in Industry, she added. Due to gender disparities in access to the internet, Kashyap explained, the women who are online tend to be of a relatively higher social status. It is this class of highly educated women that has a relatively higher presence online on social media platforms and is captured in the LinkedIn data, skewing the gender balance in their favour.
Mostly men have the "skills that can get you hired"
In 2016, LinkedIn identified the top 25 skills that were in demand globally. Most of these represent technical and computing skills. Again, the gender gaps are high across all skills, which translates into better job prospects for men in highly skilled professions.
For instance, over 85% of those reporting proficiency in skills such as 'Electronic and Electric Engineering', 'Network and Information Security' and 'Virtualization' are men.
This disparity in skills is rooted in the inequality between genders in enrollment in higher education, especially in technical disciplines.
"The most important factor may be to improve women's representative in technical institutions. About 45% of the student body at Massachusetts Institute of Technology is female; only about 10% at Indian Institutes of Technology," Desai from the University of Maryland said.
While gender gaps in terms of representation are prevalent across industries, a more significant issue is the disparity in terms of the gender wage gaps. A study on gender wage discrimination in India, led by Ashwini Deshpande of the Delhi School of Economics revealed how men's wages are higher than women's at all levels of employment, and that the disparity is starker at lower wages. The Indian job market has a long way to go towards becoming truly gender inclusive.
"Exciting news! Hindustan Times is now on WhatsApp Channels
Subscribe today by clicking the link and stay updated with the latest news!"
Click here!
Get
Latest India News
along with
Latest News
and
Top Headlines
from India and around the world