Gorakhpur's Dr Kafeel Khan offers to serve Nipah patients, gets positive response from Kerala CM
While there no official decision has been taken by the Kerala government regarding the offer, Dr Kafeel Khan said he would go whenever he is called.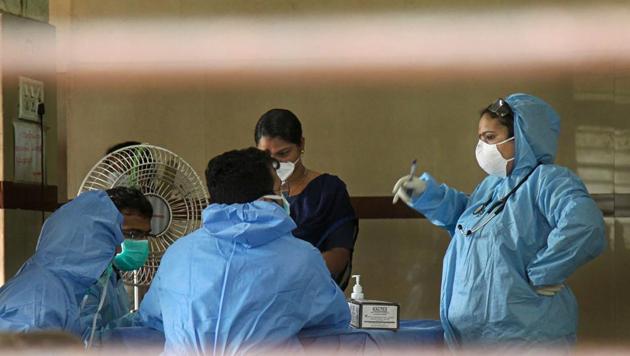 Updated on May 23, 2018 10:40 AM IST
Dr Kafeel Khan, a paediatrician who was in a midst of a controversy during last year's oxygen supply tragedy at state-run BRD Medical College and is currently out on bail, has volunteered to serve in the areas affected by the deadly Nipah virus (NiV) in Kerala.
The deadly and contagious virus that spreads mainly through fruit bats and pigs has so far claimed 12 lives, including that of a nurse, Sister Lini, serving the infected patients at a hospital.
Khan in his post on Facebook and Twitter said: "I request Kerala CM Mr Pinarayi Vijayan to allow me serve at Calicut Medical College to save the innocent lives. Sister Lini is an inspiration and I am more than willing to sacrifice my life for the noble cause. May Allah give me strength, courage and knowledge to serve the humanity."
The move has evoked a positive response from the CM of the southern state.
"I happened to see the post by Dr Kafeel Khan of Uttar Pradesh where he has extended his willingness to extend his services at Kozhikode district where there is an outbreak of Nipah virus. The state government is more than happy to allow person like Dr Kafeel to work with the state," the CM's FB post reads.
Though there is no official decision regarding this from the Kerala government but Khan said he would go there whenever he is called.
"I want to serve humanity and this is why I called upon Kerala CM to allow me work for Nepah virus patients as the symptoms and treatment is almost similar to encephalitis," said Khan who was in Kerala last week as part of his campaign to express thanks to people who supported him while he was in jail.
Khan said both the diseases (Encephalitis and Nipah) were quite similar with patients complaining of fever, difficulty in breathing, unconsciousness that eventually led to comatose state.
"While JE in East UP accounts for 30% of children death, mortality rate in Kerala due to NiV is at 40%. Sadly, this is incurable and patient is treated through symptomatic medicine. Humans get infected by consuming fruit or date-palm sap contaminated by infected bats," he said.
Khan is out on bail after spending seven months in jail in connection with deaths of 30 infants allegedly due to lack of oxygen supply at the Baba Raghav Das Medical College (BRDMC) in Gorakhpur in August last year.
Close Story