Militants who attacked BJP leader's house killed in Pulwama gunfight: Police
Police said a joint operation was launched at Ghat mollah locality of Kakapora late Thursday night following specific tip-off. The personnel were fired upon at which they retaliated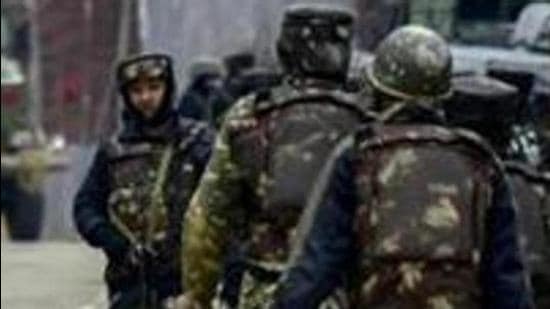 Updated on Apr 02, 2021 05:32 PM IST
Three of the militants involved in the attack on BJP leader Anwar Khan's house in Srinagar a day ago were killed in a gunfight in Pulwama on Friday, said police. A police personnel had lost his life in Thursday's militant attack.
More than 10 civilians were also injured after clashes broke out between forces and people near the site. Police, however, maintained that only three persons were injured in stone pelting incidents. However, locals blamed the force for using pellets on them.
Police said a joint operation was launched at Ghat mollah locality of Kakapora late Thursday night in Pulwama district. Inspector General of Police, Vijay Kumar, confirmed that three militants were killed in the joint operation. "After the attack on BJP leader's house in which one police cop succumbed to his injuries, police teams in Srinagar and Pulwama, while working on leads, arrested an overground worker and two other people who gave the tip-off about militants hiding in a house at Ghat mollah. At 4.30am, a cordon was established in the area."
He said the operation was delayed as the militants, hiding in the three-storey house, had taken 4-5 people hostage. "Those killed were identified as Nissar, Suhail of Khrew and Junaid of Prichoo Pulwama. All three had joined militancy this year itself."
Also Read | Mufti to challenge J&K HC dismissal of plea for intervention in passport case
He said Suhail was clad in a burkha when he attacked Khan's house along with Nisar and two others. "The rifle they snatched from the policeman was also recovered along with an AK rifle and a pistol from the site. This proves their being a part of the team that attacked the BJP leader's house on Thursday. The police is on the job to neutralise the other two militants."
Kumar said that the outfits of Albadr and Lashkar jointly carried out the attack. "It was a joint attack in which two militants were from Pulwama district and two from Srinagar city."
He said the vehicle used in Thursday's attack was also recovered near the encounter site. "This vehicle belonged to the person in whose house the militants were holed up."
In the attack police constable Rameez Raja was killed.
Close Story
Personalise your news feed. Follow trending topics