Heavy arrivals, slow lifting lead to grain glut in Punjab mandis
For the past three-four days, daily arrivals have touched 10-12 lakh tonnes and lifting could not be more than 5 lakh tonnes.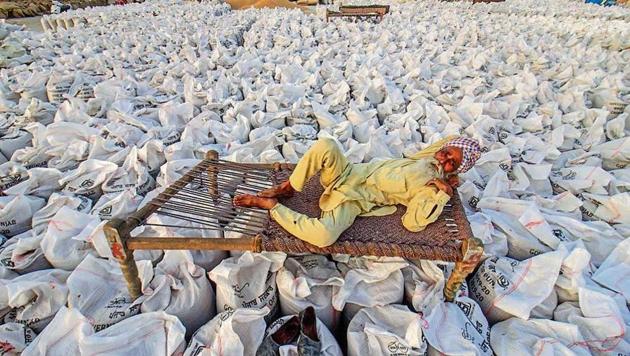 Published on Apr 30, 2019 01:30 PM IST
Sudden arrival of harvested wheat crop in large quantities to the mandis of Punjab is a cause of worry for the state government and its food and civil supplies department, as it has led to a glut.
For the past three-four days, daily arrivals have touched 10-12 lakh tonnes and lifting could not be more than 5 lakh tonnes.
State agencies are expecting 132 lakh tonnes to arrive for procurement and the entire crop is expected to reach mandis in next ten days.
Dip in temperature in the March and sporadic rainfall in the state a fortnight ago delayed the crop harvest.
Rise in temperature fastened the maturing, harvest and arrivals to the mandis. Due to inclement weather conditions crop suffered luster loss, for which the state government is demanding relaxation.
With parliament polls around the corner and campaign in full swing the congress party led government in the state is in a tight spot to strike a balance between huge gap in crops' arrival and its lifting.
"The situation is worrisome because for no reason government is on the back-foot and if not handled it could boomerang in the poll season," said food and civil supplies minister Bharat Bhushan Ashu, adding that the government was making efforts to procure and send wheat to storage points.
Figures from the state food department says by Sunday 69 lakh tonnes of wheat have arrived in 1,800 plus mandis and procurement centres, but only 38 lakh tonnes could be lifted and sent to storage points, which means 31 lakh tonnes of wheat are still stacked in the mandis.
₹7,000 crore has been distributed to the farmers so far.
According to a data with the food and civil supplies department of the state, wheat (50 lakh tonnes) and rice (90 lakh tonnes) of the previous seasons were still stacked in the state godowns, adding to the acute shortage of storage space.
SHORTAGE OF STORAGE SPACE
Currently, out of 158.5 lakh tonnes of covered storage capacity, 20 lakh tonnes is available and open plinths storage of 75 lakh tonnes, only 25 lakh tonnes is available. Most of the freshly lifted crop is stored on open plinths. Most affected districts are Patiala, Sangrur, Bathinda, Mansa, Khanna, Moga, Ludhiana, and Fazilka, where almost 90% crop have arrived.
CENTRE SURVEY TEAM IN STATE
A team of Centre's food ministry will be in the state on Tuesday to allow relaxation in luster loss. So far relaxation of upto 75% has been allowed for crop in Bathinda, Faridkot, Muktsar, Hoshiarpur, Fazilka and Ferozepur districts. It means a per quintal cut of ₹4.60.
The survey team will visit Ludhiana, Moga, Fatehgarh Sahib, Mohali and Jalandhar.
Close Story