In Assam, rape and murder of minor takes a 'Bangladeshi' turn
Mar 27, 2018 06:23 PM IST
The 12-year-old girl, a class V student, was allegedly gang-raped raped and set on fire by a 21-year-old and his two accomplices—both minors—on Friday.
The gang rape and murder of a minor girl in Assam's Nagaon district has opened up old wounds with many people blaming illegal immigrants from Bangladesh for rising crimes in the state.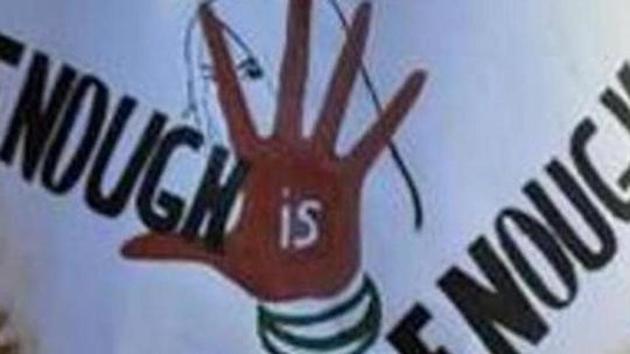 The 12-year-old girl, a class V student, was allegedly gang-raped and set on fire by a 21-year-old and his two accomplices—both minors—on Friday. The victim succumbed to her injuries a day later.
The incident has led to outrage across the state with large number of people, most of them women, coming out to the streets demanding death penalty to rapists. Others took to social media platforms to blame illegal immigrants for such incidents.
Illegal immigration from Bangladesh is a sensitive issue in Assam. The state had witnessed a violent mass uprising between 1979 and 1985, which ended with signing of the Assam Accord to find a permanent solution.
The prime accused in the Nagaon incident, Zakir Hussain, a resident of the same village as the victim, was arrested on Monday morning. His two accomplices, both belonging to the minority community, were arrested earlier.
"Hon'ble CM Sarbananda Sonowal 'dangoriya', what happened to BJP's promise to throw out Bangladeshis after 16 May 2016? How many more crimes would they be allowed to inflict before the sleeping government wakes up," chairman of Liberal Democratic Party, Prodyut Bora said on Twitter. 'Dangoriya' is an Assamese word used to address elders.
Popular singer Queen Hazarika, who has more than 22,000 followers on Twitter, also blamed "men of Bangladesh origin" for the rapes and rape attempts and said it "would be unfair to expect us Assamese not to react or utter the word 'Bangladeshi' no matter how racial it might make us look like".
Two legislators from the ruling BJP, Shiladiyta Deb and Mrinal Saikia, also accused illegal Bangladeshi migrants of committing a majority of the heinous crimes in the state.
"They have crossed all limits and it's high time the government and the police take steps to rein them as most of the crimes are committed by illegal Bangladeshi migrants," Deb told journalists on Sunday.
The issue led to furore inside the assembly on Monday with opposition Congress MLAs accusing the government of failing to safeguard women and girls and the ruling BJP trying to give a religious turn to the issue.
After being prodded by education minister Himanta Biswa Sarma, parliamentary affairs minister Chandra Mohan Patowary revealed names of the accused in the Nagaon incident and four other rape cases—all of them belonging to the minority community.
Taking offence MLA Aminul Islam from the opposition All India United Democratic Front (AIUDF) blamed the government of not revealing names of accused in some other recent rape cases—who belonged to other communities.
"A criminal is a criminal, and he or she can't be categorised on the basis or caste, creed or religion," Islam said.
As per National Crime Records Bureau (NCRB) figures for 2016, Assam witnessed 1779 cases of rape of women and 821 cases of sexual offences, including rape, against minors.
Till 2017, the state government had been able to detect 90,206 illegal Bangladeshi migrants. Only 29,738 of them have been pushed back or deported to Bangladesh since 1985, when the accord was signed.
While more than 1,000 of them are staying in detention camps across Assam, police haven't been able to trace others who disappeared mysteriously after being detected.
The state is in the process of updating the National Register of Citizens—last updated in 1951—in a bid to detect and weed out foreigners. But some feel the exercise could be futile as many of the illegal immigrants have been able to procure identity documents showing them as Indian citizens.