India has moved ahead from Babri Masjid demolition: Hindu bodies to SC
Petitioners said the Ayodhya dispute has been reduced to purely a property dispute which should not be referred to a larger bench.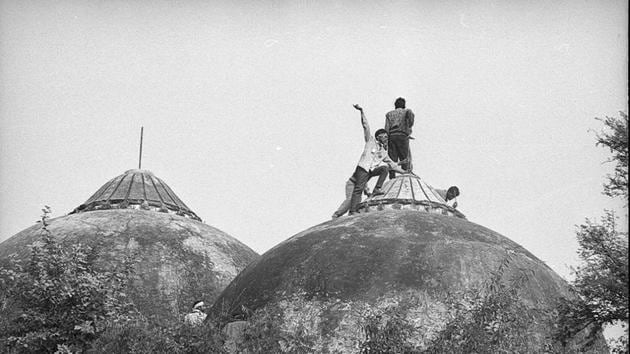 Updated on Apr 27, 2018 11:13 PM IST
India has moved far away from the events that unfolded in 1992 when the disputed structure was pulled down in Ayodhya, Supreme Court was told on Friday by senior advocate Harish Salve who insisted the court must decide the Ram Janmbhoomi-Babri Masjid case purely as a title suit.
Appearing for Gopal Singh Visharad, one among those who filed a civil suit in 1950 in the case, Salve said: "This country has mo- ved on from the events of 1992. And now we are left with a property dispute. Let it be decided like that. Invitation to go back to 1992 is an invitation to destruction."
The senior lawyer cautioned the court against getting swayed by religious and political sensitivities. "This cannot be a ground to refer the entire issue to a larger bench," he told the bench. Salve was responding to a plea by the Muslim parties to refer the Ram Janmbhoomi-Babri Masjid case to a five-judge bench.
SC had on March 14 agreed to hear the plea to consider if its 1994 Constitution Bench verdict in Ayodhya land acquisition case that a mosque was not integral to Islam required reconsideration by a larger bench. It had heard senior advocate Rajeev Dhavan on this point even on March 23.
The top court is hearing cross-appeals against the September 30, 2010 verdict of a full bench of the Allahabad high court dividing the 2.7-acre disputed land at the Ram Janmabhoomi-Babri Masjid site equally between Ram Lalla, Nirmohi Akhara and Sunni Wakf Board. All parties have filed their appeals before the top court.
Salve said appeals against orders passed by HCs have alw- ays come up before a three-judge bench of the SC, instead of a two-judge bench and such appeals did not go to a Constitution Bench.
He opposed the submission of senior counsel Raju Ramachandran, lawyer for a Muslim party, that the entire case should be sent to a larger bench as it was a very important mater. Senior advocate K Parasaran - representing Ram Lalla Virajman – and senior counsel Sushil Jain for Nirmohi Akhara echoed Salve's concern. The bench fixed May 15 to continue with the hearing.
Close Story
Personalise your news feed. Follow trending topics