It's our duty to strike down law if it violates rights: SC on Section 377
Updated on Jul 17, 2018 10:58 PM IST
A five-judge Supreme Court Constitution bench was hearing a batch of petitions challenging Section 377, which is used against members of India's Lesbian, Gay, Bisexual and Transgender (LGBT) community.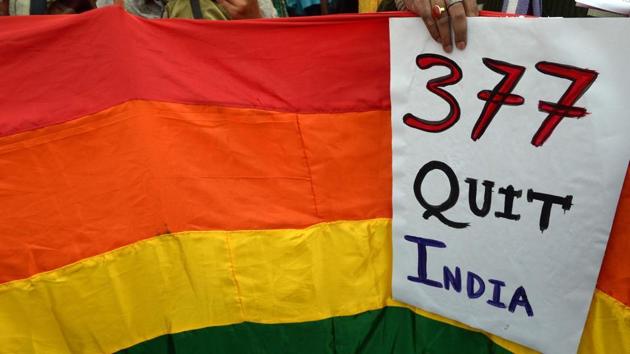 On the face of it, Section 377 of the Indian Penal Code does not affect the lives of transmen (people who are assigned female gender at birth, but identify as a man). Technically, the law does not even account for people who don't have a penis. It criminalises all manner of sexual intercourse that is not penile-vaginal. However, viewed another way, this itself is an indication of who all are affected by the law irrespective of their sexual orientation or gender identity. In reality, the law affects the entire LGBTIQ+ (Lesbian, gay, bisexual, transgender, intersex, queer and more) community: we are all constantly threatened by it
In most cases, when the natal family gets to know about a transman's relationship with his cisgender (one whose gender conforms to what they were assigned at birth) woman partner, they start pressuring him to end the relationship.
Families use Section 377 as a tool to strike fear, by misleading them into believing that the law can put them in prison.
On the other hand, the natal families also force transmen, their cisgender partners and lesbian couples to get into heterosexual marriages with cisgender men.
There are many cases where not abiding by the terms and conditions of the natal families had resulted in 'corrective' rape, house arrest, and physical and emotional abuse.
In many instances, transmen with their partners or individually have tried to run away from their natal homes.
This comes with its own backlash: families of women have filed cases of abduction against their transmen or masculine-appearing women partners.
None of this gets filed under Section 377, but it's a direct result of the stigma and criminality that the law extends over people who don't identify as heterosexual, and/or cisgender.
Due to the lack of protective laws, we are unable to defend our relationships legally.
Of course, scrapping 377 will not solve all our problems, but it will definitely give us some hope. The NALSA judgement of the Supreme Court (which offered wide-ranging rights to the transgender community, and recognised their specific gender identity) gives us the right to self-identify our gender, but it is silent about our rights to sexuality saying that another bench is looking into the matter.
It is very funny that on the one hand my gender identity is recognised, but on the other hand, my sexuality is criminalised.
Personalise your news feed. Follow trending topics