Ivanka Trump arrives in Hyderabad for global summit; royal dinner with Modi, meet with Sushma also on cards
Nov 28, 2017 10:49 AM IST
Ivanka Trump, daughter of and adviser to US president Donald Trump, is in India for the three-day Global Entrepreneurship Summit in Hyderabad.
Ivanka Trump, the daughter of US President Donald Trump and an adviser to the White House, arrived in Hyderabad for a two-day visit to attend a high-profile entrepreneurship conference starting Tuesday evening.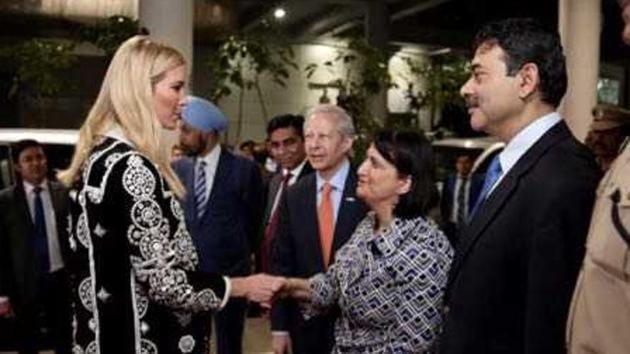 Ivanka is leading a delegation of US entrepreneurs and investors to the eighth edition of the three-day Global Entrepreneurship Summit (GES) with the theme of 'Women First, Prosperity for All'.
Ivanka will address the inaugural session along with India's Prime Minister Narendra Modi at the Hyderabad International Convention Centre at Madhapur.
Dressed in a black dress with black and white designer jacket, Ivanka landed at the Rajiv Gandhi International Airport at Shamshabad with her husband, Jared Kushner, and other White House officials.
She was accorded a warm welcome by the US ambassador to India Kenneth Juster, US consul general in Hyderabad Katherine B Hadda, NITI Ayog CEO Amitabh Kant and a host of senior officials of the Telangana government.
She was driven straight to the Hotel Trident at Madhapur, where she would stay put till 3 pm before leaving for the HICC to attend the inaugural session. Before the summit, she would have a one-on-one meeting with external affairs minister Sushma Swaraj at the HICC.
Though Ivanka was originally scheduled to stay at Hotel Westin in the Rajeja Mind Space, the venue was changed at the last minute for security reasons.
After the inaugural session, Ivanka will be back in the hotel and after a brief break, she will be driven to the Taj Falaknuma Palace, where she will attend a royal dinner hosted by the government of India. Modi will also attend the dinner.
This is only the second time the conference is being held outside the US since the 2015 edition held in Nairobi, the capital of Kenya.
More than 10 countries will be represented by all-woman delegations, including from Afghanistan, Saudi Arabia, and Israel. A number of leading female voices will speak at various plenaries, breakout sessions, master classes, and workshops.
The speakers include Google's vice president of Next Billion Users, Diana Louise Patricia Layfield, tennis champion Sania Mirza, and CEO of Afghan Citadel Software Company Roya Mahboob.
After the formal inauguration of the session, Ivanka will take part in a panel session on opening up opportunities for women entrepreneurs in their countries and communities. It will be attended, among others, by Nirmala Sitharaman, India's first woman defence minister after Indira Gandhi.
The inaugural session will be followed by two days of networking, mentoring, and workshops, anchoring the collaborative environment for entrepreneurs to exchange ideas, create networks, and take their passions to the next level.
On Wednesday, Ivanka will attend another session themed 'We Can Do It! Innovations in Workforce Development and Skills Training', which will be moderated by Telangana IT minister KT Rama Rao and attended by several delegates including Cherie Blair, founder of the Cherie Blair Foundation for Women, Chanda Kochhar, managing director and CEO of ICICI Bank Limited and Karen Quintos, chief customer officer of Dell EMC.