Jharkhand forest officials rescue endangered fishing cat sighted after decades
Jun 03, 2018 09:05 PM IST
Listed as Endangered in the IUCN Red List, villagers trapped the fishing cat in net after it preyed on their goats.
The state forest department officials rescued a rare fishing cat from a hilly area in Jharkhand's Sahibganj district, over 400 km from the state capital, after it was trapped and injured by villagers on Saturday evening, officials said.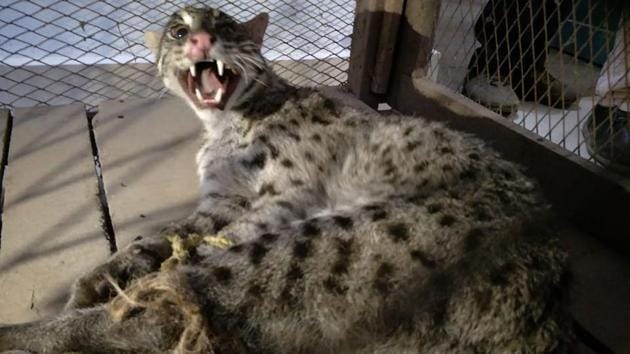 The sub-adult animal is being given special care under experts' observation for its revival, officials said.
The fishing cat, sighted after four decades in Jharkhand, is listed as Endangered on the IUCN (International Union for Conservation of Nature) Red List, which means that it faces a major extinction threat in the wild. The animal, whose scientific name is Prionailurus viverrinus, is also placed in Schedule 1 of the Wildlife (Protection) Act, 1972.
"The cat was rescued from Pahar Pur area, around 40 km from Sahibganj town. The animal had received injuries as it was trapped in a net by villagers," said Sahibganj divisional forest officer (DFO), Manish Tiwary. He said veterinary doctors have been called for its treatment.
State chief wildlife warden LR Singh said, "Villagers had trapped the cat after their domesticated animals, mainly calves and goat kids, started disappearing. The villagers hit the animal with sticks, as the cat, they are claiming, was preying on the domesticated animals." He said appropriate action would be taken against the villagers following proper investigation.
Wildlife experts said wetlands are the preferred abode for fishing cats as they are adept swimmers and prey on fish. Apart from fish, it also preys on frogs, snakes, birds and scavenges on carcasses of larger animals, the experts said.
Fishing cats are mainly found in the foothills of the Himalayas along the Ganga and Brahmaputra river valleys, mangrove forests of the Sundarbans and in the Western Ghats.
"Fishing cat was reported for the first time after several decades in Jharkhand. It is said that the animal was also spotted in East Singhbhum district around four decades ago. We are examining the records," the chief wildlife warden said.
Singh said the several wetlands, including Udhwa lake and the Ganga stretch, could be attracting the fishing cat in the Sahibganj area. "But, we do not have any record as they are not forest protected areas. Thus, no animal census is carried out in the region," he added.
He further said Jharkhand's protected forest area was merely 9% against the national average of 22%.