Kaifiyat Express derails in Uttar Pradesh's Auraiya district, over 70 injured
The train travelling from Azamgarh to Delhi collided with a dumper at around 2:50 am and nine coaches of the Kaifiyat Express went off the tracks.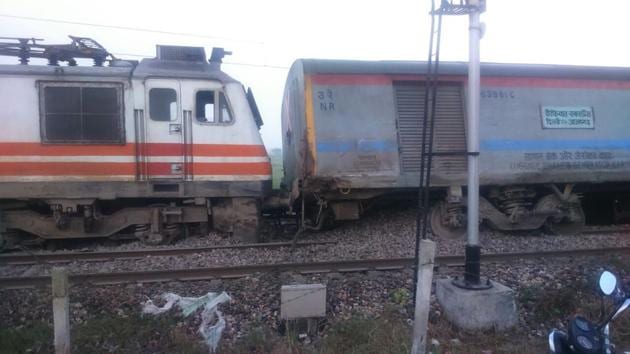 Updated on Aug 23, 2017 06:18 PM IST
More than 70 people were injured when the Delhi-bound Kaifiyat Express derailed in Uttar Pradesh's Auraiya district early on Wednesday, four days after a similar accident killed 23 people in the same state.
Officials said the accident occurred when the train hit a sand-laden dumper which overturned at an unmanned level crossing minutes before the train was to pass through.
The condition of four of the injured is said to be serious.
The train, travelling from Azamgarh to Delhi, collided with the dumper at around 2.50 am between Pata and Achalda railway stations, a spokesperson for the North Central Railway said.
One of the bogies overturned while seven others jumped tracks.
"A dumper hit the locomotive of the Kaifiyat Express, resulting in derailment of coaches," railway minister Suresh Prabhu tweeted.
"Some passengers have received Injuries and have been shifted to nearby hospitals.I am personally monitoring situation, rescue operations (are on)," he said in a separate tweet.
Sources said chief minister Yogi Adityanath spoke to senior officals for details about the incident.
NCR sources said work for a dedicated freight corridor was going on at the site at the time of the accident.
Several trains were either cancelled or delayed after the accident.
Additional director general of police (law and order) Anand Kumar said an inquiry will be ordered to find out how the dumper overturned on the tracks.
On Saturday, Kalinga Express derailed near Khatauli in western Uttar Pradesh killing 23 people and injuring more than 150.
India's railway network is the world's fourth largest by distance and remains the main form of travel in the vast country, with 22 million passengers commuting daily.
But the network is poorly funded and deadly accidents often occur, with experts blaming under-investment and poor safety standards for the frequency of incidents.
A 2012 government report described the loss of 15,000 passengers to rail accidents every year in India as a "massacre".
Prime Minister Narendra Modi has pledged $137 billion over five years to modernise the railways and his government has signed numerous upgrading deals with private companies.
(With inputs from agencies)
Close Story