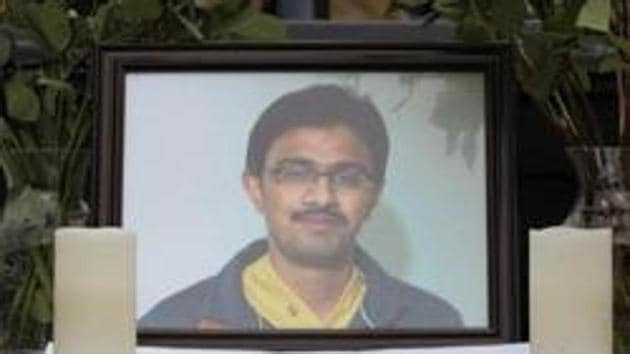 Kansas man sentenced to 'die in prison' for killing Srinivas Kuchibhotla
Adam Purinton was found guilty of one count of first-degree murder for the killing for Srinivas Kuchibhotla and two counts of attempted first-degree murder for the shooting of Kuchibhotla's friend, Alok Madasani.
Hindustan Times, Washington | By Yashwant Raj
UPDATED ON MAY 05, 2018 10:48 PM IST
A former US navy serviceman was sentenced to life in prison on Friday for killing Indian information technology (IT) engineer Srinivas Kuchibhotla in 2017, following President Donald Trump's victory in a bitterly divisive election.
Adam Purinton was found guilty of one count of first-degree murder for the killing of Kuchibhotla and two counts of attempted first-degree murder for shooting Alok Madasani, a colleague and friend of the techie, as well as Ian Grillot, a local man who suffered severe bullet injuries when he tried to intervene.
They were attacked on February 22 last year at a bar in Olathe, Kansas that Kuchibhotla and Madasani used to visit after work at their Garmin office. Purinton used racial slurs, and yelled at the two to "get out of my country".
Purinton, 52, also pleaded guilty to two counts of attempted first-degree murder for shooting Madasani and Grillot. He will not be eligible for parole for 930 months (or 77.5 years). According to reports, he acknowledged in court documents that the sentence "will ensure I die in prison".
"Our goal is to make sure that he never walks in the community again, that he spends the rest of his life in the penitentiary, and I believe this sentence will achieve that result," district attorney Steve Howe said.
Purinton had pleaded guilty to the murder charge in March. When asked by the judge how he would plead to the first-degree murder charge, Purinton said: "Guilty, your honor."
He also faces federal charges of hate crime, to which he had earlier pleaded "not guilty" but changed his plea subsequently. He is scheduled for a hearing on May 21
"Today's sentencing in the murder of my husband will not bring back my Srinu, but it sends a strong message that hate is never acceptable," Sunayana Dumala, Kuchibhotla's wife, said in a statement after the sentencing. "My Srinu had never hurt anyone and only had love and respect for others, but he had to lose his life because of your hate. It is because of only those values he instilled in me that I am able to write this. I hope in the years that you (Purinton) must spend in the jail you will one day realise the magnitude of your mistake and work towards your penance," she had told the court during the Friday hearing.
Kuchibhotla's killing had sent shockwaves across the United States and India, where many young dream of working and staying on to live as citizens in the US. The American dream suddenly turned dangerous for them as reports of other hate-filled responses to Indians – especially a video of H-1B families at a neighbourhood park in Ohio state shot by a man who was clearly opposed to foreign workers – surfaced.
The Indian-American community had blamed the shooting on social tensions unleashed by Trump, and some leaders went as far as to suggest that the president had "blood on his hands".
The White House pushed back aggressively against these allegations, but was seen as being late in condemning the killing, which the president finally did, in the opening lines of his maiden address to the joint meeting of the US congress. "Recent threats targeting Jewish Community Centres and vandalism of Jewish cemeteries, as well as last week's shooting in Kansas City, remind us that while we may be a nation divided on policies, we are a country that stands united in condemning hate and evil in all its forms," the President said in the speech on March 1.
In a statement to the media after the sentencing, Dumala said that while nothing can "fill the void left by this murderous act", she hopes to use the incident as a means of preventing others from having to undergo the suffering she experienced. "We must be there for each other, and be proactive to build a loving and understanding community for current and future generations. As Ian Grillot and others at Austin stood up that fateful February night, we must all stand up for each other before more hateful acts occur in our community," she said.
Close