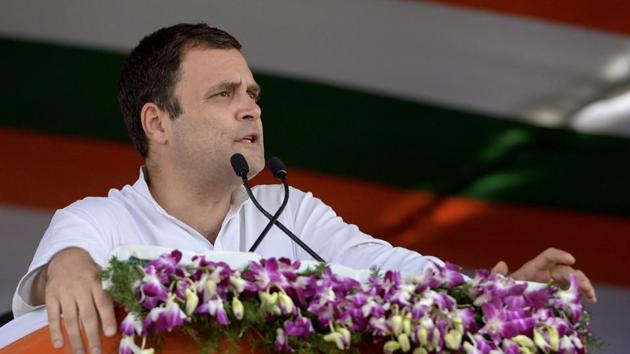 Karnataka elections a battle of ideologies, not personalities, says Rahul Gandhi
Rahul Gandhi claimed that Prime Minister Narendra Modi makes personal attacks whenever he is afraid.
UPDATED ON MAY 03, 2018 09:18 PM IST
Congress president Rahul Gandhi on Thursday said Prime Minister Narendra Modi's "attacks aimed at him" will not pay off because the Karnataka assembly elections was a battle of ideologies, not personalities.
Gandhi, who embarked on the eighth leg of his 'Jana Ashirwada Yatre' by addressing three rallies at Aurad, Bhalki and Humnabad in Bidar district, said his party has always unified people and worked for their development. Criticising Modi for getting personal with his attacks, he said: "This election is about the future of Karnataka. Unable to target us on issues like education, roads or farmer welfare, he goes after Rahul Gandhi."
He went on to claim that the Prime Minister makes personal attacks whenever he is afraid. "But we won't reciprocate, because we believe in a culture where we treat opponents with respect. Why doesn't the PM tell small businesses why he couldn't save them from the Gabbar Singh Tax (GST)? Instead of that, he keeps attacking me. It won't benefit him."
Gandhi asked Modi to follow Lingayat statesman Basavanna's principle of 'Nudditante Nade' (practice what you preach) instead of pointing fingers at others. "He promised to deposit Rs 15 lakh each in poor citizens' bank accounts (by bringing back black money). Did he do it? He promised two crore jobs to the youth every year. Did he do it? He said he would ensure higher minimum support price for farmers. But he did none of this," he said.
Alleging that the Prime Minister merely pays lip service to farmers' issues, Gandhi said the Centre hadn't even contributed a ten-rupee note to the Rs 8,500-crore farm loan waiver announced by the Siddaramaiah government. He also termed the Centre's much-publicised crop insurance scheme as something that benefited insurance companies, not farmers.
The Congress president said that the Siddaramaiah government, unlike the BJP regime at the Centre, fulfilled 90% of the promises made in the manifesto brought out in the previous elections. He said Modi, on the other hand, was only interested in surrounding himself with a complete set of characters from the movie 'Sholay'.
"Gabbar, Kalia, Samba – the complete gang," he quipped. "Flanked by Reddy brothers and Yeddyurappa, Modi will speak against corruption."
Gandhi is expected to cover the Kalburgi, Gadaga and Haveri districts over the next few days as the battle for Karnataka intensifies.
Close