Karnataka government formation: A timeline as to how the midnight drama unfolded
Updated on May 17, 2018 12:35 PM IST
Chief Justice Dipak Misra obliged the Congress-JD(S) combine at midnight to hear their petition seeking stay on Yeddyurappa's swearing-in as soon as Karnataka governor Valubhai Vala invited him to.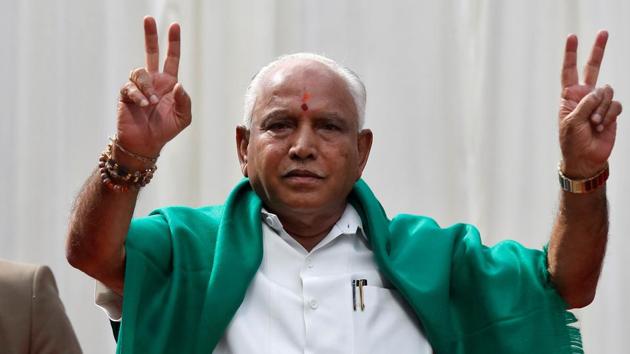 The tussle between the Bharatiya Janata Party and the Congress-Janata Dal (Secular) combine began at 9:30pm on Wednesday when governor Valubhai Vala invited BS Yeddyurappa to be sworn in as the new chief minister of Karnataka.
The Congress-JD(S) combine rushed to make an urgent plea before the top court challenging the governor's decision to invite the BJP to form the government and stay Yeddyurappa's swearing-in.
Here is how the drama unfolded:
• Congress and JD(S) file a petition, seek an urgent mid-night hearing from the top court. Petitioners are G Parmeshwara and HD Kumaraswamy
• Chief Justice Dipak Misra obliges at midnight to hear the matter
• Misra sets up a three-member bench of justice AK Sikri, justice SA Bobde and justice Ashok Bhushan to hear the petition
• The Supreme Court is opened at midnight for the extraordinary hearing
• Lawyers assemble in courtroom number 6 to argue the case — Abhishek Manu Singhvi for Congress-JD(S) alliance, attorney general of India KK Venugopal for the Centre, former attorney general of India Mukul Rohatgi for two BJP MLAs. Additional solicitor generals Tushar Mehta and Maninder Singh are also present in the court.
• The hearing begins in the Supreme Court at 2:10am.
• Senior advocate Singhvi demands that the governor's order calling the BJP to form the government should be stayed.
• Singhvi cites judgements and instances of Manipur, Meghalaya and Goa where the governor invited the single largest alliance to form the government.
• Singhvi questions governor's wisdom and mathematical logic to invite a party with 104 MLAs as opposed to an alliance of 115 MLAs to form the government.
• Singhvi says even if Yeddyurappa is sworn in, the 15 days' time given to him to prove a majority must be reduced to 48 hours.
• Attorney general of India Venugopal opposes the Congress-JD(S) petition, says allow swearing-in. He says it is a reversible process and the moment the floor test takes place the truth will be known.
• Venugopal says calling any party by the governor to form the government is governor's discretion.
• Rohatgi calls Congress-JD(S) petition misconceived and demands its dismissal. He argues there cannot be any order by the court injunction a constitutional authority of the governor.
• After almost three and a half hours of the hearing, the top court says it will not stay Yeddyurappa's swearing-in, directs his letter of support given to governor to be produced in the court on Friday at 10:30am.
• Drama to continue on Friday 10:30am.
Personalise your news feed. Follow trending topics