Kaziranga National Park's rhino population rises by 12 in 3 years
Published on Mar 30, 2018 11:17 PM IST
The rhino population was 2,401 in the 2015 census.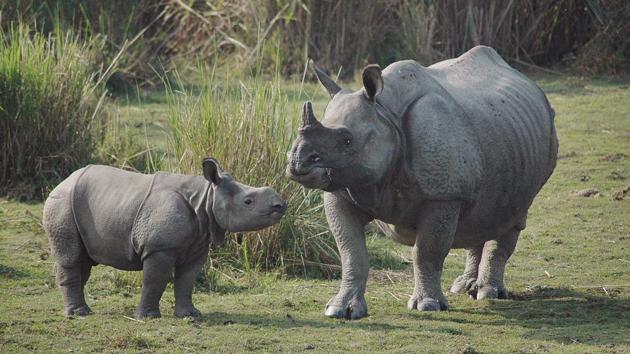 The population of the one-horned rhino in Assam's Kaziranga National Park has risen to 2,413, a 2018 census has found. This amounts to an increase of 12 rhinos over the 2015 census count of 2,401.
This is a very small change, given that the previous census had registered an increase of 111 beasts over the 2012 count. Officials, however, attributed it to "incomplete" execution of the census.
"People literally have to ride on elephant backs and SUVs to count rhinos for the census. So it is a common practice to burn patches of tall grass for enhancing visibility. However, burning was poor this year due to the high moisture content and several rhinos may have been missed," said NK Vasu, chief wildlife warden of Assam.
Only 20% of the vegetation could be burnt this time, as compared to the 60-70% set afire every year.
Vasu said a correctional census to get a better estimate will be conducted in Kaziranga next year.
Census data showed that 1,641 adult rhinos were spotted, of which 642 were male, 793 female and 206 of undetermined sex. There were 387 sub-adult rhinos between the ages of four and six, of which 116 were male, 149 female and another 122 of undetermined sex. As many as 385 calves also figured in the data.
"The rhino population in Kaziranga is viable, meaning that they can survive in the wild as long as the habitat is preserved," said Vasu.
The census was conducted on March 26 and 27 at the Kaziranga National Park. This is the second of four rhino habitats where a census was conducted this year.
Personalise your news feed. Follow trending topics