Kerala Man's FB post on why he got a vasectomy goes viral for all the right reasons
"Why is the responsibility of family planning imposed only upon women and not men?"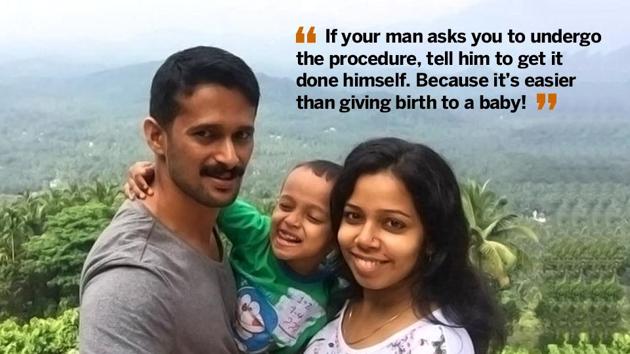 Updated on Apr 07, 2018 05:47 PM IST
"Why is the responsibility of family planning imposed only upon women and not men?" This question raised by a Kerala man who recently underwent a vasectomy is garnering a lot of attention on social media.
Habeeb, a native of Palakkad district in Kerala, recently shared his experience of undergoing vasectomy on his Facebook profile, explaining why it's a better option than women undergoing tubectomy.
Habeeb and his wife, Anju, decided to go for permanent contraception after the birth of their second child.
"We decided that if Anju were to undergo another Caesarean section, then she would get a tubectomy done in the same procedure. Otherwise, I would get a vasectomy done," he wrote.
After weighing all the options, he decided to undergo vasectomy, a surgical procedure for male sterilisation.
He narrates his entire experience of undergoing the procedure that he says took hardly 20 minutes. He was able to ride back home on his own.
"The doc said that there should be no need for any extra precautions except for not doing things like raising something very heavy for a week. I came home and started eating and drinking. The next morning, I walked in the usual way," wrote Habeeb.
He went on to highlight the fact that how tubectomy, which is a female sterilisation method, is a comparatively costlier and complicated procedure.
"Vasectomy is a simple procedure. It will not affect ejection, ejaculation or orgasm. It is a relatively painless surgical procedure with a shorter recovery period. There are no restrictions as such, and sexual relationship can be resumed very soon."
"At the same time, tubectomy is a major surgery. This is the best option for those undergoing a caesarean since both can be completed at the same time. But what if you have a normal delivery? For this procedure, you will get general anesthesia and the recovery can take about weeks. The possibility of infection and other complications are relatively high."
He then questioned, "Why is it that when it comes to family planning, we don't opt for a relatively simpler option like vasectomy and make women undergo a more complex procedure?"
He ends his post with a word of advice for women.
"So, dear women, at a time when both men and women have equal options to partake in family planning, when there's a much easier operation than the one you will have to undergo, if the man is lovingly pushing you towards the surgery, you must tell him, "You go and undergo this procedure". Anyway, it's not as challenging/demanding as giving birth to a child."
Since being shared on April 4, his eye-opening post has got more than 2000 reactions, 500 comments and 200 comments so far.
"Let your message be an eye opener to the ignorant . You are really great. Proved yourself to be a good husband and a confident male," wrote one social media user.
Another commented, "We all know these procedures. But your perception is really inspiring to all....God Bless...."
Close Story