Explained: Does Kerala have lowest immunity against Covid-19?
Jul 28, 2021 07:22 PM IST
According to the state-wise seroprevalence percentage, released by the Union health ministry of Wednesday, Madhya Pradesh has the highest seroprevalence and Kerala has the lowest.
The Union health ministry on Wednesday released state-wise seroprevalence data which showed that Madhya Pradesh has the highest percentage of seroprevalence while Kerala has the lowest. The Centre has also asked the states to conduct local seroprevalence surveys in consultation with the Indian Council of Medical Research so that district-level data can be generated on the percentage of people who have antibodies against Covid-19. The state-wise seroprevalence data is part of ICMR's fourth national serosurvey in which it was found that one-third of the Indian population is still vulnerable to the infection, while two-thirds have antibodies.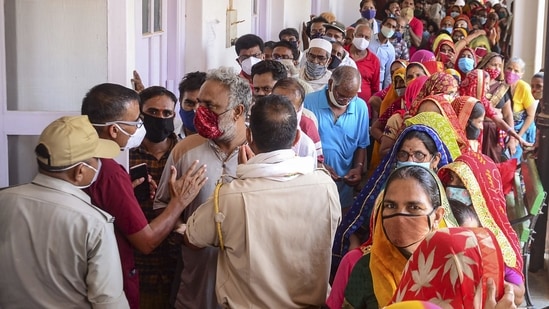 According to the ICMR's 4th serosurvey, conducted in 70 districts of the country, Madhya Pradesh reported the highest seroprevalence of 79 per cent. Madhya Pradesh is followed by Rajasthan (76.2%), Bihar (75.9 %) etc.
Stay tuned with breaking news on HT Channel on Facebook.
Join Now
Also Read: How close is India to achieve herd immunity? What experts say
The lowest seroprevalence was reported from Kerala (44.4%), preceded by Assam (50.3 per cent) and Maharashtra (58.0%).
Overall, 70 per cent of Indians have antibodies against Covid, the survey, published a few days ago, revealed.
Statewise seropositivity rate and the significance of the data
| | |
| --- | --- |
| State | Sero prevalence (%) |
| Madhya Pradesh | 79 |
| Rajasthan | 76.2 |
| Bihar | 75.9 |
| Gujarat | 75.3 |
| Chhattisgarh | 74.6 |
| Uttarakhand | 73.1 |
| Uttar Pradesh | 71 |
| Andhra Pradesh | 70.2 |
| Karnataka | 69.8 |
| Tamil Nadu | 69.2 |
| Odisha | 68.1 |
| Punjab | 66.5 |
| Telangana | 63.1 |
| Jammu and Kashmir | 63 |
| Himachal Pradesh | 62 |
| Jharkhand | 61 |
| West Bengal | 60.9 |
| Haryana | 60.1 |
| Maharashtra | 58.0 |
| Assam | 50.3 |
| Kerala | 44.4 |
Kerala scores lowest in serosurvey: What does this mean?
Does this mean that Kerala scores lowest in herd immunity? In a way yes, as the present Covid-19 situation of the state also highlights the same. The state is now contributing to 50 per cent of fresh cases being reported daily in India. The fact that these many people are contracting the infection at a time when the pandemic is on the decline in most other states implies that this population of Kerala did not have antibodies against SARS-CoV-2. Kerala Covid expert committee member Dr Anish told ANI that Kerala has vaccinated proportionately more people than the national average. The centre should give more vaccines to Kerala since it is behind the national average of herd immunity threshold.
Natural infection plus vaccination is seroprevalence
Serosurvey reveals how many people have antibodies against SARS-CoV-2. These antibodies might be a result of vaccination or natural infection. Kerala's Covid expert committee's Dr Anish said since Kerala's vaccine coverage is proportionately more than many other states, its low score in herd immunity implies that the number of people developing antibodies through natural infection is low.
Serosurvey and third wave
How telling are the serosurvey findings in connection with the possible third wave of the pandemic? The bottom three states in herd immunity against Covid-19 are Kerala, Assam and Maharashtra. While the situation in Kerala is worrisome with daily cases not going down, the Covid-19 graph in Maharashtra has plateaued. Northeast states are also reporting a higher number of Covid-19 cases. States which have lower seroprevalence are still reporting a higher number of fresh infections and thereby are at a greater risk of any possible future wave.